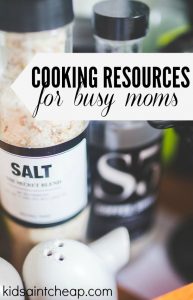 When you work full time and are pressed for time after work, preparing and cooking dinner can be a chore. I actually don't mind cooking but during the week it simply comes down to something I have to do.
While it is tempting to eat fried eggs and toast every night to avoid meal planning, when you want to eat healthy this isn't realistic. To prepare healthy meals for my family, it starts with proper meal planning. Not only does this ensure we eat well it's a huge help to our budget. I have a few go-to resources that make my life a little more manageable and I will share them with you:
Host a Big Cook. This isn't something I've done in a while but it is definitely meal prep at its finest. I borrowed the Big Cook cookbook from my local library but have considered ordering it so I can continue to share it with those in my life because I rave about it so much. Though this is initially a lot of work, you end up with many pre-planned/pre-prepped meals you simply need to grab from your freezer and usually throw in your crock-pot day of. This is something I want to do again soon.
Pinterest. Like everything, Pinterest is a great resource. I have found many inspiring recipes from browsing on Pinterest. I like being able to organize my pins based on different things; you could have Vegetarian/Chicken/Beef organized boards or more simply breakfast/lunch/dinner ideas. It's a nice way to start organized digitally.
EmilyBites.com. This is one of my favorite websites for recipes. It's well laid out with great visuals. I don't love most recipe websites because I find they're usually quite overwhelming, but Emily Bites is focused on good tasting, healthy-versions of family favorites. I've never made something I didn't love. She offers ''extra'' information too for each recipe like Weight Watchers points values if you follow a particular diet.
Skinnytaste.com. Another great website that is well laid out. The thing about this website is that I really like, is that she includes entire weekly meal plans you can follow along with, but if you'd rather she also has it organized by individual recipes. If you're someone who is super organized she also offers a meal planning book you can follow along with. Finally, her pictures are great too.
The hardest part of cooking for my family, is planning what to cook for my family. By using a few of these resources taking care of the planning is much easier, even a picky three year old!
What are your favorite meal planning tools?
Catherine is a first time momma to a rambunctious toddler. When she isn't soaking up all that motherhood has to offer, you can find her blogging over at Plunged in Debt where she chronicles her and her husbands journey out of debt. You can also follow her on Twitter.