When we give our kids an allowance, we are giving them their first experience with money.  An allowance allows them to make money mistakes (and hopefully learn from them).  But it also gives them the chance to save for their goals and buy something for themselves only after having the discipline to save.  However, kids don't learn to be smart savers instantly, though a lucky few seem to right from the start!  We, as parents, have to teach them.  Another fun way to enhance this learning is by using free apps that help kids manage their pocket money.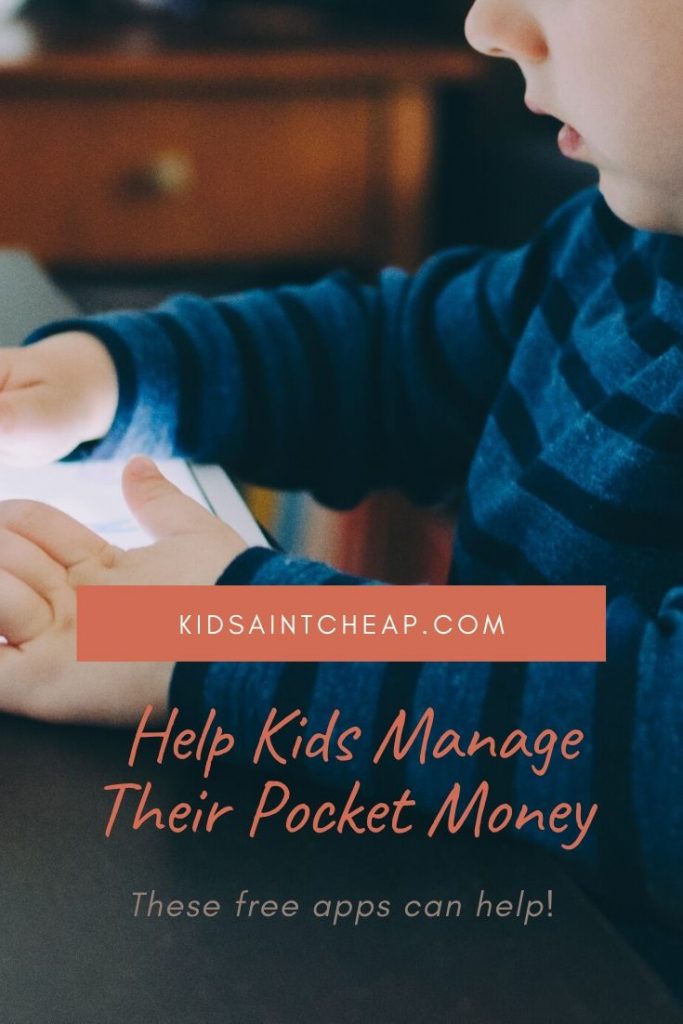 Free Aps That Help Kids Manage Their Pocket Money
PiggyBot
This app allows parents and kids to track the children's allowance virtually.  Rather than hand your kids $10 for allowance, parents deposit the allowance virtually into PiggyBot.
The app lets parents deposit the money into three different accounts—spend, share, and save.  Children can come into the app and set goals for what they want to buy with their money.  When they reach their savings goal, the child can ask mom or dad for the money to buy the item.  The parent simply deducts the money from the app to match the fact that money has been dispersed.
This is a simple app, which is available for free and works on an iPad, iPod Touch, or an iPhone.
bankaroo
bankaroo was created by a high schooler for kids to learn to manage their money.  While many families use it at home, it's also used in some school districts to teach kids money management skills.
bankaroo is free and can be used online.  It can also be used as an app for iOS, Android, and Kindle phones and tablets.  For $4.99 a month, you can upgrade to bankaroo GOLD, which will allow you to add interest to savings as well as transfer money electronically between family members.
I don't have much cash on hand since we're not going out right now due to the virus.  Instead, I've been keeping track of what I owe my kids through bankaroo.  It's easy for me to manage, and my kids are enjoying the app.  They can see their money grow there, even if they don't have the cash on hand as they're used to.
Allowance and Chore Bot
This app is free if you just need to enter information for one child.  If you have more than one child, you'll need to buy the $2.99 version, which supports multiple children.
As a chore app, you can give your child daily or weekly chores to complete and mark in the app.
As an allowance app, you can choose two versions.  Either you pay your child weekly with the money not linked to chores, or you pay based on the chores that are completed.
Children can easily look at the app and see how much money they have accrued, what they've spent and on what.  They can also compute how much they'll make in the future based on their current allowance.
This app is good for all ages and is available on Android and iOS.
Star Banks Adventure
Star Banks Adventure app is the product of T. Rowe Price and is available for free.  This app is best for ages 9+ and is designed for the iPhone and iPad.
This app presents kids with a game where they have to draw lines through matching shapes and colors.  When they do that, they're rewarded with virtual money to buy the things that they need.  Through the app, they learn about money management and the banking industry.
ChoreMonster
Do you have trouble getting your kids to do their chores without procrastinating and complaining?  If so, the ChoreMonster app may change that.  Designed for kids ages 4 to 12, the ChoreMonster app is available on the Web, Android, iOS, and Kindle.
Parents can use the app to assign their children chores, give a weight to the chore such as earning 10 points, and then specifying what children can "buy" with their points.  Rewards can be 30 extra minutes watching a TV show or getting an ice cream cone.
While this app does not specifically teach children about money, it does teach them the correlation between working hard for things that they want.
App for Less than $6
While most free apps should do just fine with teaching your kids about money and helping them manage their allowance, if you have $6 to spend, there are some apps that are popular and educational.
Savings Spree
This app is $5.99 and for iPhone, iPod Touch, or iPad.  Perfect for kids ages 7 and up, kids will likely enjoy this app so much they won't realize they're also learning.
Savings Spree is designed like a game show, and kids must answer questions.  They learn about using money wisely and long-term savings goals.
App for Less than $6 a Month
Most of the apps mentioned above are for kids 12 and under.  What if you want to teach your teen about real-life money management?  Suddenly the stakes get much higher.  Of course, if you just give him cash, he can't spend more than he has, but what if you want to teach him how to manage in our high-tech financial world?
FamZoo Family Finance
This is not one of our free apps that help kids manage their pocket money.  In fact, this app is $5.99 a month unless you pay for 24 months in advance.  In that case, the app is $2.50 a month.
Despite the price, this app is worth mentioning because it's for kids 13+, and it's not an app that teaches virtual lessons.  Rather, the parents put money in the child's account in FamZoo Family Finance, and the child is issued a card that links to the app.  Parents can see their child's spending and offer advice.  The app also tracks chores and odd jobs and teaches teens about preventing credit card debt.
Final Thoughts
If you'd like to teach your child in a fun way, there are plenty of free apps that help kids manage their pocket money.  There are also a few that aren't free but you may find worth the price.  No matter what apps you chose, teaching kids about finances with apps is fun and will hopefully set them up for a more financially savvy future.
Melissa is a writer and virtual assistant. She earned her Master's from Southern Illinois University, and her Bachelor's in English from the University of Michigan. When she's not working, you can find her homeschooling her kids, reading a good book, or cooking. She resides in Arizona where she dislikes the summer heat but loves the natural beauty of the area.