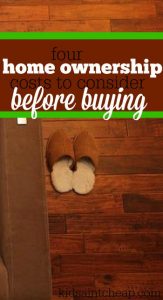 For some, homeownership is a huge goal. At one point, it was one of my goals too. I fantasized about owning a home of my own every day until it happened. Though we did, what we thought was a lot of homework before buying, there was still so much we didn't know, or think about, until the time came.
Here are four home ownership costs to consider before buying.
How much money do you need, after closing?
We knew we'd need the downpayment, but we weren't exactly sure about how much everything else (deed transfer etc.) was going to cost. Thankfully we overestimated and ended up having a little extra saved, never a bad idea. There are small annoying costs to consider too like, you may want to pay to have new locks installed or carpets cleaned before you move your stuff in.
What is included/What needs upgrading?
Find out exactly what is included and see if anything needs to be bought or changed. For us, though all window coverings were included they were pretty awful. This was a cost we did not consider at the time and slowly had to change them out. We actually went without bedroom curtains for almost a year! We had all appliances included as well, and most were ok but something we didn't really pay attention to when we bought, was how old the washer and dryer were. We only had to use them once to realize they weren't in the best working order and needed to be replaced, another cost.
How much will it cost to actually move?
At the time we bought our home, we were moving from a small apartment to a house. We didn't have a lot of stuff and were able to move by ourselves no problem. For the cost of renting a truck and paying our friends in beer, we were moved over in an afternoon. Moving from our current home to our next house will be much more difficult and we will likely need to hire movers. Between our friends having many more commitments now (careers and young families) we have too much stuff and will likely need help from professionals if we want it done in a timely manner. This isn't going to be cheap and a cost we will need to investigate before we move so we're not surprised when the bill comes in!
What don't you have?
When we move to our next home in a few years there are things we will need that we don't have in our current home. We'll likely have another child at this point and they will need their own bed. We will also need a new couch since the plan is to get rid of our current couch when we move, one less thing to move but one more cost we need to consider. (Here are some tips on buying secondhand.)
Getting into homeownership is exciting but also a lot of work and money spent! Though most people consider the downpayment costs, it's easy to overlook the other costs involved in buying a home. Though some of these costs snuck up on us the first time, we'll be much more prepared next time!
Did you overlook any costs when buying your home?
Catherine is a first time momma to a rambunctious toddler. When she isn't soaking up all that motherhood has to offer, you can find her blogging over at Plunged in Debt where she chronicles her and her husbands journey out of debt. You can also follow her on Twitter.