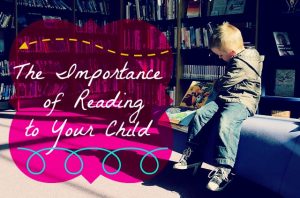 When we were in the hospital after I delivered my daughter one of the things that was given to us was a cloth bag with a few children's books in it. When I asked what it was she explained that the hospital gave out this package to all new families as a way to encourage early reading. I thought it was crazy that they would need to even need to implement such a program (thinking about the cost of the program) but the program coordinator was the first to open my eyes to the growing issue of children simply not being exposed to books anymore.
Reading in the Digital Age
Kids aren't getting read to, out loud, as much anymore. With the growing use of electronics especially, digital programs are replacing time with mom and dad and reading good old fashion books. Most pediatric societies argue children should have zero screen time until at least age two, some even older citing kids should have zero screen time until the age of five to seven. Screen time including television, computers and all other electronic devices.
While I do agree that screen time should be seriously limited, my daughter, being two years old is allowed to watch an episode or two of her favorite show. Where I draw the line though is introducing her to a computer or tablet device, especially to replace time she reads books.
Reading Aloud – The Old Way
My house is overrun with children's books. We have hundreds of them, and it drives me crazy sometimes but listening to my just two year old run around the house yelling her ABC's at the top of her little (ok, not so little) lungs makes me happy and reminds me why we have so many books.
We started reading to her as part of her daily routine which we implemented from a very young age. While she was really young, and not so active and on-the-go, we would read and look at books all day long, I mean what else could she do?! Now that she's a very active toddler and outside playing and with other kids, we still set aside time to read every day.
She gets quiet time and books at a minimum before her nap and bedtime which, given how busy we are, is more than sufficient for me and much more than most kids are getting unfortunately. In a recent study, parents who did not read to their children on a regular basis (almost 50% of children by the way) cited not having enough time in the day to do it. To which I argue my husband and I both work full-time, have other responsibilities and side jobs, there is no way I could ever justify not having five to ten minutes a day to read to my child.
I'm not totally hating on technology but studies have shown that reading (old school) books out loud with pictures and words develops children much more than any electronic. Children who are read aloud to every day are stronger academically and have a much broader vocabulary. Benefits aside, I wouldn't trade my evening reading and cuddle time for anything in the world, it's my favorite part of our day!
For more on reading, and how to make sure you spend the best time with your children doing so, check out these great articles.
Dolly Parton's Imagination Library Wants To Give Your Child a Free Book Every Month
A Fun and Economical Way to Get Kids Interested in Reading: Comic Books
Here are 8 of the Best Kids Books On Audible
Do you read aloud to your children?
Catherine is a first time momma to a rambunctious toddler. When she isn't soaking up all that motherhood has to offer, you can find her blogging over at Plunged in Debt where she chronicles her and her husbands journey out of debt. You can also follow her on Twitter.