One of the more controversial topics in parenting circles, right behind should children be paid an allowance tied to chores, is, should you reward kids for good grades?  As a student, I never received money for good grades.  I didn't need to because I liked learning and school.  Likewise, we haven't paid our kids for good grades because generally, they get good grades on their own.  However, if paying your kids works for you, then, by all means, continue to do so.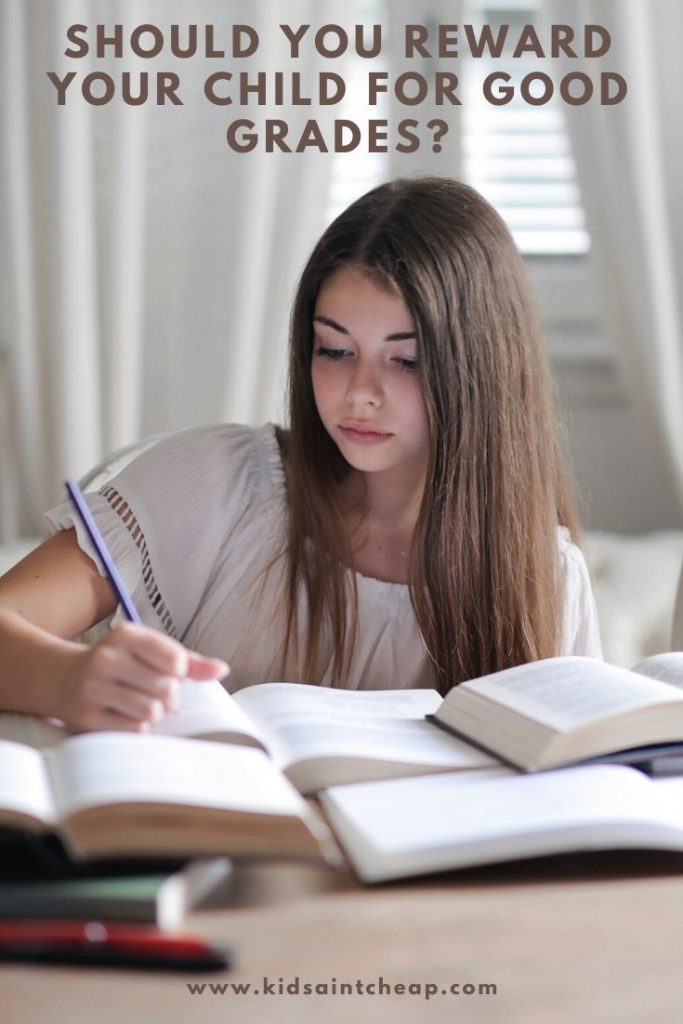 Why You Shouldn't Reward Kids for Good Grades
Our family has several reasons why we don't reward kids for good grades:
Learning Disabilities
We have three kids, and two of them have dyslexia.  Those two are currently getting an intervention to help them read more fluently, but they're always going to struggle with reading, writing, and spelling.  If I reward all three kids for good grades with money, the one without the disability will generally earn more.  Likewise, if you have a gifted and a typical learner, the typical learner may struggle more than the gifted learner.
The Love of Learning Should Be Intrinsic
Another reason why we haven't yet paid our kids for good grades is that all three are motivated to earn good grades on their own.  They have an intrinsic desire to get good grades.  When an intrinsic desire is there, kids are usually more motivated than if they had an extrinsic motivator like being paid money.  (Having said that, if our kids had little desire to learn, we may implement a monetary system to motivate them to get better grades.)
May Encourage Cheating
This is not true for all kids, but for some kids, getting paid for good grades may encourage cheating.  Let's say a child gets paid $10 for a C grade but $50 for an A grade.  If he struggles with the material, he may resort to cheating to boost up his grades and make more money.  After all, if a child is getting all Cs for six classes, that's only $60 for the term versus if a child is getting all As and earning $300 a term.  I would say $240 is a strong incentive to cheat to get a better grade, especially if working hard and studying isn't giving the child the results that he wants.
Final Thoughts
There is no right answer to the question, should you reward kids for good grades.  Many parents argue, rightly so, that rewarding their children helps motivate them.  (Keep in mind, some parents reward with money while others reward with privileges.  Either work, though privileges might work better for younger kids.)
However, our family philosophy has always been, if it isn't broken, why fix it?  For our family, our kids are motivated enough on their own to try to get good grades.  We've been hesitant to add in a reward system for that reason and also because it seems unfair to the children who have dyslexia.
Melissa is a writer and virtual assistant. She earned her Master's from Southern Illinois University, and her Bachelor's in English from the University of Michigan. When she's not working, you can find her homeschooling her kids, reading a good book, or cooking. She resides in Arizona where she dislikes the summer heat but loves the natural beauty of the area.