One of my favorite ways to sneak in extra education with my kids is to play games with them.  Kids seems to just absorb knowledge this way because they're having fun.  I've shared some of our favorite geography games previously, but I'd like to share a few more of our favorite games to teach children geography.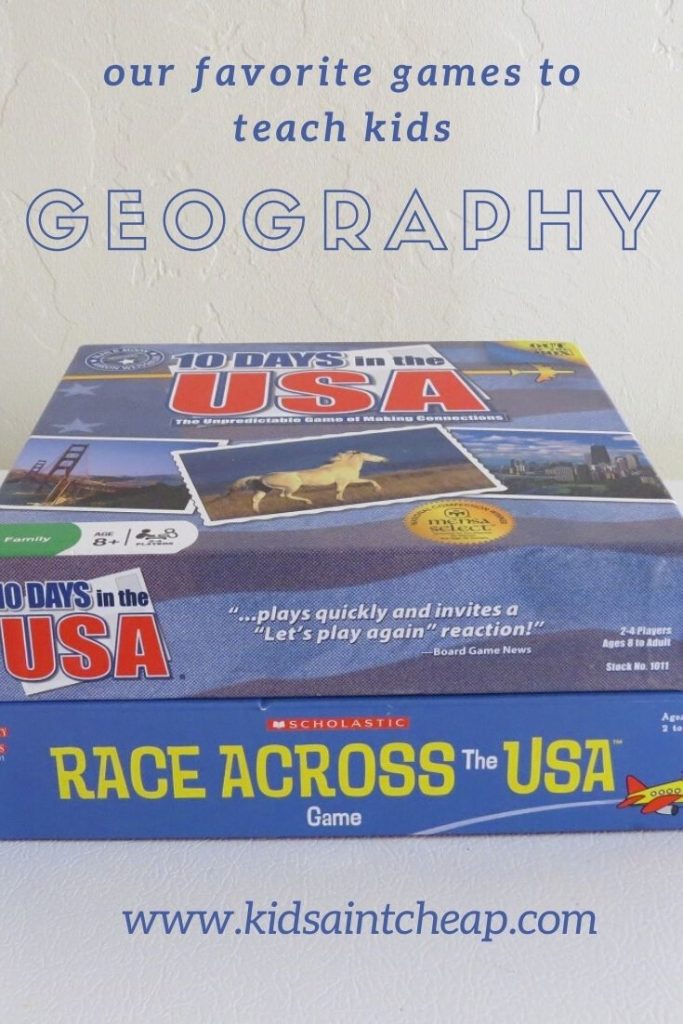 Online Games
Kids will easily learn to play online geography games.  Here are two that are highly recommended.
Sheppard Software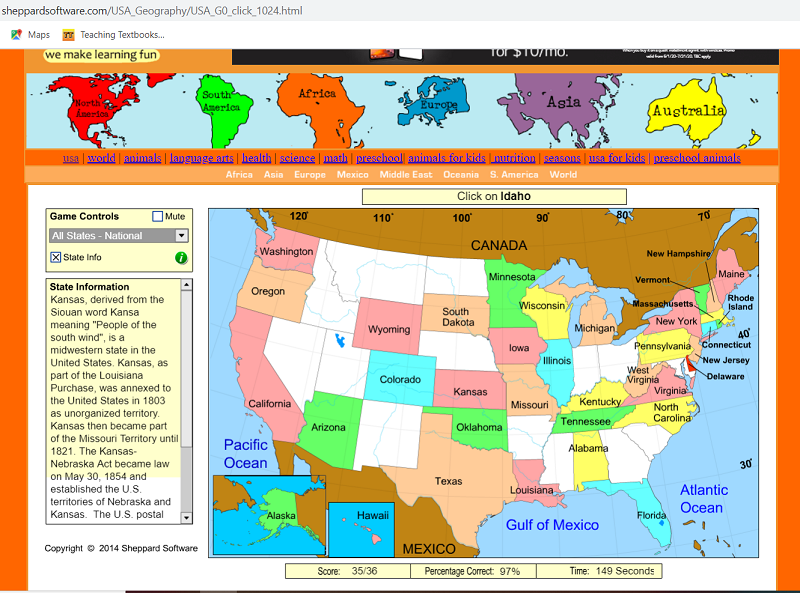 One of our favorite resources for learning geography is Sheppard Software.  Kids can learn the states of the United States or learn the countries of other continents.  My kids love this and play without complaint.  As soon as one of my daughters is done with the geography portion, she goes over to the Brain Games portion.
This site is a great resource as they also have history, animal, science, and health games, plus more.
Stack the States
We've not personally used this game because we don't have an Apple device.  However, if you do, I've heard fabulous things about the app Stack the States.  This game teaches state capitals, shapes, geographic locations, and flags, to name a few.  Even better, it's recommended for ages 4+, so it's a fun way to help early elementary students learn their geography.
Board Games
10 Days in. . .Games
These games are perfect for family game night.  There are several versions of this game including 10 Days in the USA and 10 Days in Europe.  Players draw 10 cards.  The objective is to make a 10 card trail to your destination.  To make the trail, for instance, in 10 Days in the USA, you must either have a string of 10 cards that show a path through 10 states that connect, or you have a plane trip between to states that don't touch.
Unfortunately, these games are a bit hard to find now.  You can find them on eBay and Amazon, but for now, production on new games doesn't seem to be happening.
Explore the 50 States
This game is good for ages 7+.  Players spin a spinner and either land on the icon for a question card, flag card, travel card, or you choose.  If you get a question card, you can choose between answering a geography or history question.  The flag cards have three different questions.  You move forward once for each question you answer; if you can answer all three, you move forward three spaces.  The travel cards give fun facts about a state or attractions in that state.  Some make you do something before you move forward or some make you move back.
We find this to be a fun game to learn all sorts of things about the United States, from history, geography, trivia, and state flags.
Final Thoughts
Your kids are always learning, not just when they're in school.  We find our favorite games to teach children about geography are a great way to have fun as a family and learn more together.  Luckily, there are many games available to help teach or reinforce knowledge for a variety of subjects.
Melissa is a writer and virtual assistant. She earned her Master's from Southern Illinois University, and her Bachelor's in English from the University of Michigan. When she's not working, you can find her homeschooling her kids, reading a good book, or cooking. She resides in Arizona where she dislikes the summer heat but loves the natural beauty of the area.