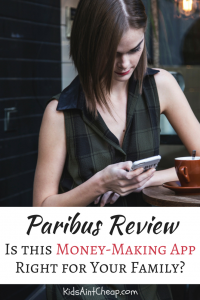 According to a Pew Research Center survey, 79 percent of Americans made online purchases in 2016. Fifty-one percent purchased something on their cell phones. Parents make up a massive percentage of those shoppers, so that's why I've put together this Paribus review. It's here to help you find ways to earn cash back on those online purchases this year.
My Paribus Review: Is Paribus Right for Your Family?
If you're handy with your smartphone, you probably already use money-saving apps like RetailMeNot, Swagbucks, or Walmart's Savings Catcher, but there's a new kid in town called Paribus, and it's different than any other app you've tried.
What Is Paribus?
Paribus is an app available to all Apple devices and is free to download. Every time you shop online, Paribus automatically scans your digital receipt to see if there are purchases eligible for cash back over the subsequent weeks.
For example, let's say you bought your son a $60 LEGO kit at Walmart.com for his birthday last week, but you've just noticed the price dropped to $40! Paribus automatically contacts Walmart to find out if you can get that $20 refunded. If they agree, then you get 100% of that refund!
Not bad for doing basically nothing, right?
What Are the Benefits and Drawbacks to Using Paribus?
It goes with the territory that every new product has its pros and cons. Your days are filled with tending to kids, running your household, and keeping your head on straight. My job is to help you make an informed decision about products that may or may not benefit your family as honestly as I can.
Therefore, here are the benefits and drawbacks I observed when using Paribus.
BENEFITS
It's free. From the moment you download the app to your first cash back alert, there are no charges or hidden fees. Although, you do have to spend money shopping online, obviously! 
It could be great for the holidays. Last Christmas, I asked a group of moms to share their favorite way to go Christmas shopping and the majority answered, "Online." If you rack up most of your holiday spending money with online retailers then you could be in for some cash back on some of those purchases.
DRAWBACKS
You have to share quite a bit of private information with Paribus. Like I said earlier, I want to be totally honest in this review, so I need to share one drawback that gave me considerate pause at first. Paribus will have authority to read, send, delete, and manage your email. They also request your Amazon login and password, as well as your credit card information.
I worked for years in fraud prevention at a financial institution, so those were automatic red flags to me. I dug in and researched user experiences since the app's inception in 2014. Despite the scary amount of personal information, I did not read one report of fraudulent activity or compromised information from users.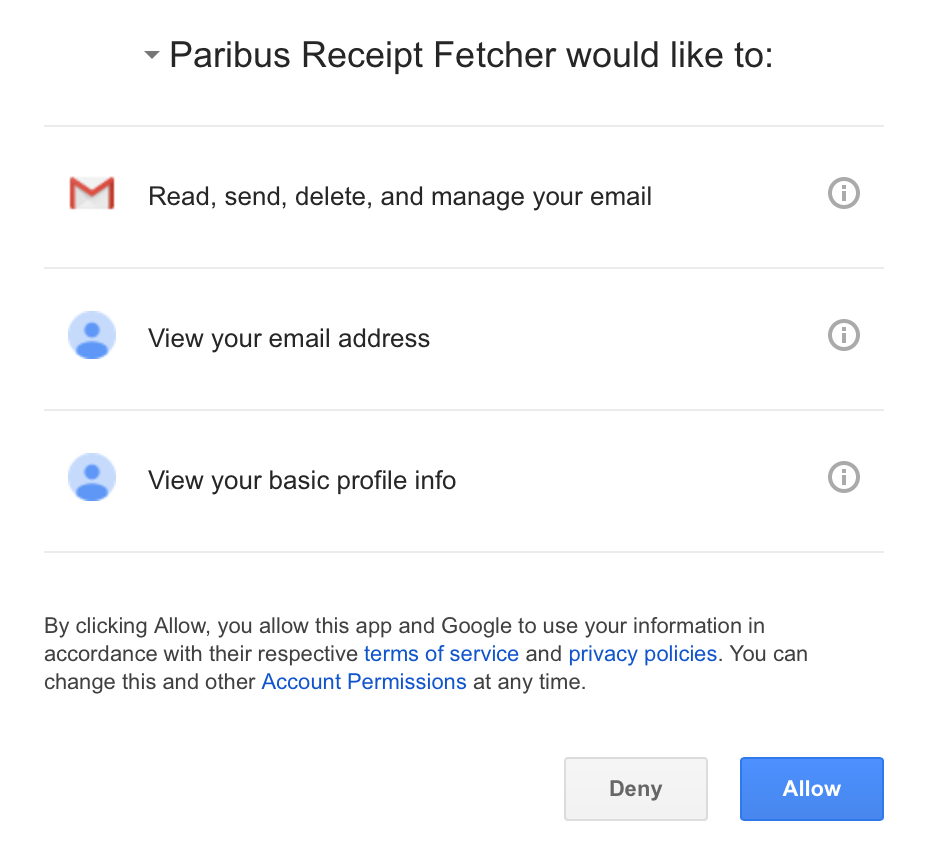 I'm just reviewing this product as a consumer and don't have authority to ensure this software is secure, but you can hear directly from Paribus and learn more details about how they handle our information via this CNBC report.
Watch out for hiccups. I experienced a technical bug when I tried to sync my Amazon account with Paribus. Upon further research, I discovered several other complaints about technical hiccups like that. I'm sure they're updating and ironing out bumps all the time, but just be aware that those may cause some delays.
Not every purchase or store is eligible. A number of users complained that Paribus only pays back on eligible stores and purchases, so their cash back wasn't as much as they hoped. Considering your family's needs over the course of this year, you may want to evaluate where you'll be shopping for them and how often. Paribus updates the list of eligible retailers regularly.
Paribus Review – Final Thoughts
The million dollar question is this: Did I actually get cash back using Paribus? 
Not yet. I believe the reason is because I shop infrequently online and have only just started using Paribus.
Paribus is a free app that requires minimal upkeep, so if your alright with the parameters discussed throughout this article and you already shop online regularly, then it's likely this app will make you some money. If you don't shop a lot until Christmas, then it may still be helpful. If you just don't shop a lot, ever, then you may not hear much chatter from Paribus.
Are money-saving apps like Paribus a wise replacement for good financial habits? Not at all. We use terms like "personal finance" and "financial living" because you must live out certain principles in order to succeed. Laying a foundation with things like budgeting, saving, and spending less than you make are far and away more important than using the right gadget or app. Are apps still helpful? Yes. But don't let them tempt you to spend more than you intended to and wreck your foundation.
The Sign-Up Process
The following four steps taken directly from Paribus' sign-up page will help you get started:

In other words:
Sync your info to Paribus.
Shop.
Get paid.
Where are some of your favorite online stores when you're shopping for your family? Share one below!
This post was sponsored by Paribus. 
P.S. Are you a stay-at-home mom? Make sure you bookmark or pin some of these resources for later!