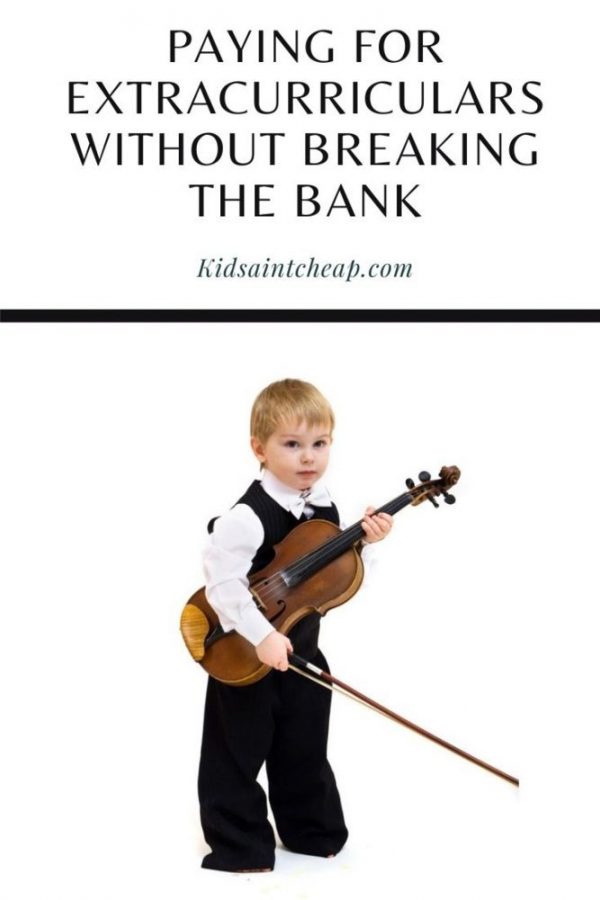 Kids are naturally curious and tend to get excited about sports, musical instruments, and all sorts of group activities.  While you may appreciate their enthusiasm, you also likely have to balance your budget. I've learned over the years that paying for extracurriculars without breaking the bank is possible.
Paying for Extracurriculars on a Budget
Use these strategies to save money and allow your children the chance to explore their interests.
Rent (and Rent to Own) Musical Instruments
When it comes to music, I learned quickly how expensive it was going to get. However, rather than buying new, we explored other, more frugal choices.
Pay the School a Rental Fee
My son wanted to play the violin, and I wanted to support that. The school offered us an option where we could pay a rental fee and use what they had in the music department. It is a great resource for many families who don't want a huge commitment in the first year! Or for families who cannot afford to buy an instrument. If your child is exploring music at school, start with the music department to see what your options are.
Rent-to-Own with a Local Music Shop
If your child is really committed to music in and outside of school but cannot afford the gear, you can opt for a rent-to-own deal at a local music shop. I chose this option, and I have no regrets after my son used his instrument for a few years. My payments were low and manageable. We just paid it off, and he now has his violin for life. I paid careful attention to my son and realized he is a kid who is very dedicated.
However, if you have a child who consistently tries things and stops after a few months, then you can just return the instrument.
Secondhand is Good Enough
Especially when your child is trying a sport for the first time, buy what you need secondhand!

Secondhand Sports Stores
Sports gear and musical instruments do not have to be brand new. You can find quality music instruments and sports supplies that have been gently loved and need a new home. Perhaps the seller's child played soccer and quit so mom got rid of the gear. Likewise, a mom with four boys who outgrew their hockey gear needs to sell theirs for new gear for a new endeavor. The piano bought for Little Jimmy may have been a big mistake and has to leave the house for good.
Donations from Other Parents
Don't forget the kindness of other families! Some dance groups will donate the costumes and shoes that their children outgrew for the newest members of the dance academy. Sports teams will send their used gear to younger groups (within some reason) so they have plenty to practice with. You and other parents can also host a clothing/gear swap so that everyone gets what they need without spending a dime.
Minimize Their Schedule
Children (and plenty of adults) have very little impulse control. It is very easy to see all these wonderful things to do and want to try it all. Take a breather and consider letting the child do one thing a season.  Your child does not need a weeklong schedule of practices, rehearsals, games, and recitals.
They do need some time to relax and be with friends. Yes, it will save you a lot of money. It will also save you a lot of time and give you and your child a chance to practice healthy self-care.
Final Thoughts
You can make your kids' dreams come true with a little ingenuity and thinking outside the traditional box. Paying for extracurriculars doesn't have to be expensive or require a parent to take on a second job.
Read More
How to Find Good Deals on Kids Sports Equipment
4 Tips to Help Your Children Succeed in School
Preparing Easy School Lunches and Keeping Your Sanity
Melissa is a writer and virtual assistant. She earned her Master's from Southern Illinois University, and her Bachelor's in English from the University of Michigan. When she's not working, you can find her homeschooling her kids, reading a good book, or cooking. She resides in Arizona where she dislikes the summer heat but loves the natural beauty of the area.