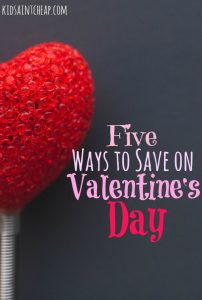 I admit that as someone who is married, I'm not the biggest fan of Valentine's Day. It always just seems very ''in your face'' but as a Mother, I love it. Everything about having kids changes including your love of what I call, Hallmark Holidays.
My daughter gets so excited with every little event. Maybe it's the excuses that come with it, like extra treats, but regardless we have fun with it. As much as I enjoy doing these little extras, I'm more concerned with our budget and how much it will cost. I'm not interested in spending an obscene amount of money on something like Valentine's Day. Here's how we plan to have fun with Valentine's day as a family, without busting our budget.
Plan a picnic
Valentine's day is in February and for us, that means cold. Having an outdoor picnic isn't an option but instead we're planning a family date night picnic style. We plan on saving our weekly dinner out for Valentine's day but we'll pick up something to go and come home and eat it picnic style (in the warmth of our house!).
Movie Night In
Our daughter is now at the age where she will, for the most part, sit through a movie. After we finish eating our picnic dinner, we'll probably find a family movie for us to watch. To go to the theater on Saturday would easily cost us $50 for tickets alone so we'll veg out at home in our pj's and cuddle on the couch together. I would much rather this experience anyway.
Make Treats Yourself
My daughter will be having a Valentine's day party at her daycare. We like to bring something for the kids to eat. I priced out a few pre-made valentine's treats at the bakery and it was going to cost about $20 for what I was looking at. Instead I went to Pinterest and found a cheap and easy treat that cost me a total of $7 to make. It will also only take about 30min total to put together, with a busy schedule I also have to consider time.
Plan a Special Breakfast
Cooked breakfast isn't something we often have time to do so I'm going to make sure we have time on Valentines to do so. Even something easy like pancakes or waffles, by adding a few Valentines sprinkles to the mix, there's no doubt I will impress my three year old.
Skip Gifts
Our family won't be exchanging gifts. My daughter did buy a $2 box of Valentines for her daycare party but that's it. Instead of gifts we'll be spending time together and enjoy some of the treats that we will make for her party (I did buy extras for us too!).
To me, Valentine's day should be about demonstrating love, not buying things. Simply spending quality time with my family is all we need and it will be setting an example to our daughter that we don't need to exchange ''stuff'' to feel loved.
Does your family do anything special for Valentine's day?
Catherine is a first time momma to a rambunctious toddler. When she isn't soaking up all that motherhood has to offer, you can find her blogging over at Plunged in Debt where she chronicles her and her husbands journey out of debt. You can also follow her on Twitter.