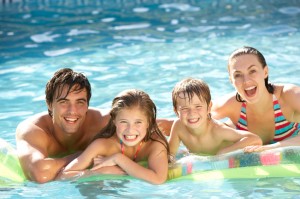 I previously wrote about how my family was getting ready to partake in a family vacation together. The event was a family reunion and our first vacation with our daughter. Even though she's still quite young, I can already see how  the expenses are adding up with factoring more that just a plus one in your travel plans. Kids eat, sleep and partake in events just as adults do and costs add up!
Getting Ready to Travel
A key to saving with traveling is to prepare appropriately.  I like to prep for travel by trying to earn as many points as possible for my travels.  For example, with the TD Aeroplan Card, I can earn points faster, and they also have a 2-for-1 travel special.  Since my daughter is still young, she can fly on my lap.  And with this card, my husband and I can travel for the price of one ticket.  Then, you add in points, and we're well ahead on our path to save money traveling.
Saving Money on Travel with Children
I don't need to tell anyone that airfare is expensive. While bartering or negotiating posted airfare prices isn't an option there are other ways to save on travel costs.
Most airlines don't charge for children under two years of age so travel away with your babies! Younger children will often get discounted tickets as well. Another option for saving on additional ticket costs is to look into any rewards you may have through credit cards or point redemption programs. Even if you don't have enough rewards for your whole family, having enough to help offset some travel costs will be beneficial on your travel budget.
While flying would have been a fast and convenient option for our family, we chose to drive. The cost of driving the 2800 km (1750 mi) round trip was significantly cheaper than paying for the airfare for our family and, in my opinion, much more fun. We made the road trip fun and apart of the vacation fun.
Saving Money on Events
The easiest way to save money on events is to attend events where kids are free or discounted. We didn't attend a single event that we had to pay for our child. Even though she's young (14 months), most places were free under six anyway. Only the professional sporting event would we of had to pay if she didn't sit on our lap, an event well worth the money should we needed to pay.
Prioritize the events the family wants to do and come up with a budget that suites everyone's wants.
Saving Money on Food
We saved money on food a few ways. One, we stayed in a hotel that had breakfast included. The hotel had a hot breakfast selection every morning which was great because it kept us well satisfied until late in the day. We often skipped lunch, opting for a snack instead and having a normal dinner. We also had the option of requesting a mini fridge and/or microwave in our room which made things quite easy. We were able to buy some foods at the grocery store and store in our room for the week. This was especially good for having a little one with us and being able to keep her favorite snacks and fruits on hand.
Like the event option, choose restaurants where kids eat free, or cheap. We went to one restaurant where kids ate for $0.10 per pound of body weight. I don't know if they actually enforced the weigh-in and fee or if they had a generic kids price, but there was a discount for kids.
Travelling with children will be more expensive but with a little more planning you should be able to make it work. Vacations should be about making memories not stressing about money!
How do you make your family vacations more family/budget friendly?
Catherine is a first time momma to a rambunctious toddler. When she isn't soaking up all that motherhood has to offer, you can find her blogging over at Plunged in Debt where she chronicles her and her husbands journey out of debt. You can also follow her on Twitter.