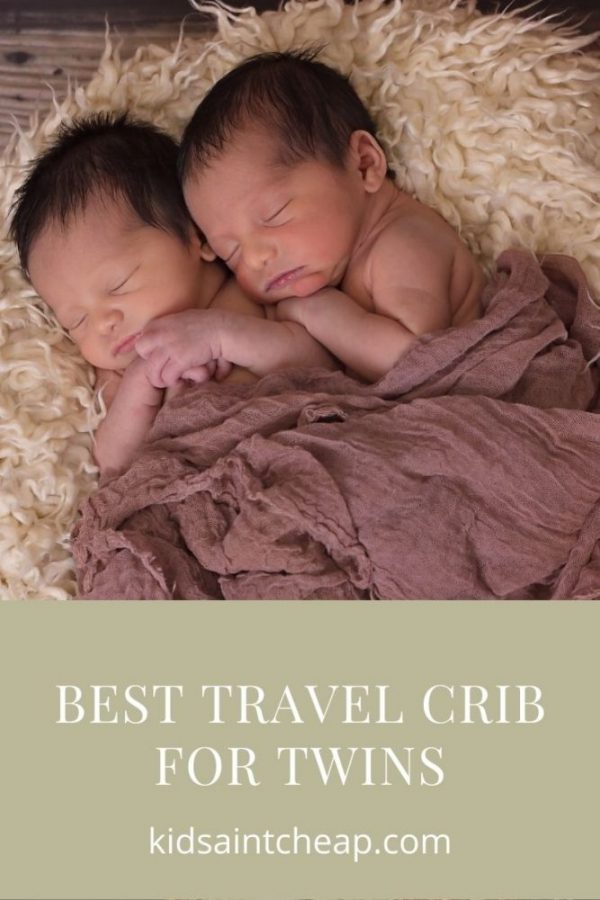 Traveling with babies and toddlers is always interesting.  First, you have to plan the actual trip.  How will the baby do?  What can you do as a parent to make your baby more comfortable and able to pass the time while you're traveling?  But then there are other considerations, namely, all the gear that you have to pack so you can travel with the baby.  Think playpens, strollers, portable changing tables, etc.  If you have twins, the planning is likely to double.  However, if you choose the best travel crib for twins, you get a lot of your travel gear in one purchase.
Best Travel Crib for Twins
Now that more people are having twins, the market has exploded.  Lucky for us as buyers, that means there are many choices available, but you really only need one that is superior to the rest.
Joovy Room²
Hands down, the best travel crib for twins is the Joovy Room².
This product comes with a thick pad for the bottom as well as a soft, fitted, waterproof sheet.  This playpen can accommodate children from newborns to those 35 inches tall, which means you'll be able to use it for several years.  (The manufacturer asks that you discontinue use when the child can climb out.)
Pros
There are many pros with the Joovy Room².
Spacious
This portable playpen is bigger than standard pack n plays, which makes it ideal for twins.  In fact, it's nearly 10 square feet in size and can easily accommodate two children.
Additional Features
The Joovy Room² has wide mesh on all sides, so you can more easily see your children.
It also comes with a storage bag that you can use when traveling with the Joovy.
Finally, it has two wheels on the bottom to allow you to easily move the Joovy Room².
Twin Nursery Center Bassinet Playpen Accessory
For newborns and infants, you can purchase the Joovy Twin Nursery Center Bassinet Playpen Accessory.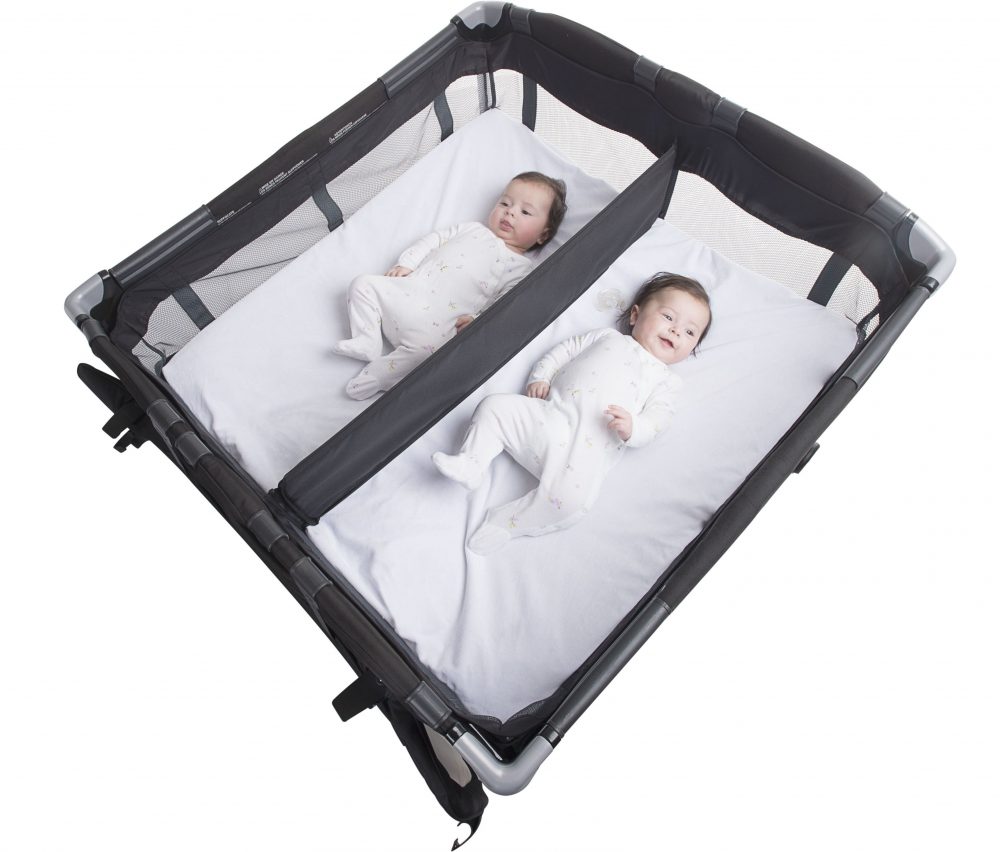 This handy accessory turns your playpen into the perfect portable crib for twin babies.  It includes:
Bassinet,
Bassinet divider (so each baby has their own separate space to sleep in), and
Changing table (which sits on top of the bassinet area)
For convenience, the changing table flips to the side when not in use.
The bassinet holds up to 30 pounds, which means the twins can use it until they weigh 15 pounds each.
Cons
Although twin parents love the Joovy Room², it does have some drawbacks.
Heavy
Because it is large and comes with a high-quality, thick mattress, some parents say that it's heavy.  A few even say it's too heavy to travel with.  However, that is a minority of parents.
Bunching Sheet
Other parents complain that after the sheet has been washed a few times, it has the tendency to bunch and not fit as snugly as when it was new.
Why the Joovy Room² Is the Only Twin Travel Crib To Consider
There are many twin travel cribs on the market, but since the Joovy Room² is superior to the rest, it's the only one you need to consider. It beats the competitors in several aspects:
Affordable
The Joovy Room² is $179.99 no matter which retailer you buy from. The Joovy twin nursery center bassinet playpen insert is an additional $99.99. For the price, you get a twin travel crib that is approximately 50 percent bigger than others on the market. In addition, the shape is square rather than the typical rectangular shape, giving your children more room.
Flexible Buying Options
Some other twin travel cribs on the market include the twin bassinet as part of your purchase. You can save money if you need the bassinets because the set is about $50 cheaper than buying the Joovy Room² playpen and bassinet accessory. But not everyone needs the bassinet accessory. If you simply need a travel playpen, the Joovy Room² is cheaper and bigger than the competitors.
Excellent Reviews
Read reviews on Amazon, and you'll see that customers give the Joovy Room² 4.7 out of 5 stars. Specifically, 85 percent of customers give it 5 out of 5 stars.
Where To Buy The Joovy Room²?
The Joovy Room² is available on Joovy's website, Amazon.com, and Walmart.  As of the writing of this posting, all three are selling the Joovy² for the same price: $179.99.  Also, shipping times are comparable between the three retailers.   Joovy's website says they ship in 2 to 5 business days.  Amazon also ships in 2 to 5 days and Walmart offers a similar shipping time.
So, where to get it is up to you.  Here are three main options, click on the price in each table cell to buy the crib.
Joovy is not available on costco.com.
Don't forget to use a cash-back credit card – but keep the balance paid off.
Final Thoughts
If you're looking for the best travel crib for twins, consider adding the Joovy Room² to your baby registry or buying it.  This product will continue to serve your family for several years.
Read More
Discounts for Parents of Twins and Multiples
What I Love Most About Having Twins!
Tips on Buying Gifts for Twins
Melissa is a writer and virtual assistant. She earned her Master's from Southern Illinois University, and her Bachelor's in English from the University of Michigan. When she's not working, you can find her homeschooling her kids, reading a good book, or cooking. She resides in Arizona where she dislikes the summer heat but loves the natural beauty of the area.