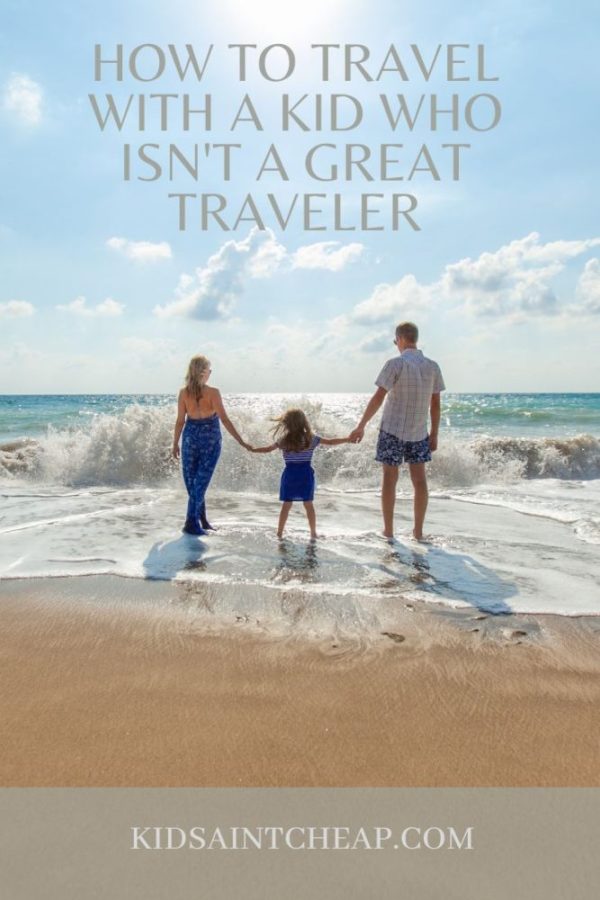 My husband and I love to travel. Neither of us traveled much during childhood, so we want to share the world with our kids. However, we've had to figure out how to travel with a kid who isn't a great traveler because one of our children dislikes traveling. This child has always struggled with travel, and while we respect that, we don't want to stop traveling because we feel it's an integral part of the life experience we want to cultivate for our kids.
How to Travel with a Kid Who Isn't a Great Traveler
Our child, who I will identify in this post as "Blair," has struggled with traveling since the toddler years, so this isn't a new phenomenon. However, we've learned these tricks to make travel better.
For Younger Kids
Take Breaks
When we traveled when Blair was younger, we scheduled plenty of breaks. While driving, we'd stop every hour or two, ideally at a rest area or restaurant with a playground.
When we were at our destination, we planned one event per day. The rest of the day was downtime. For instance, we went to Boston when Blair was a preschooler. There was so much I wanted to see and do, but we just did one activity per day. We went to the Boston Tea Party Ships and Museum and then returned to the hotel so Blair could watch some favorite kids' shows and relax. Even though we didn't get to go to as many destinations as I would have liked, Blair still remembers throwing the crates of tea off the ship.
Bring Travel Diversions
We usually travel by car, so I started packing travel diversions when the kids were little. Before the trip, I would buy small activities and trinkets like a water coloring book or a fidget spinner. Then, I would wrap the item, and the kids could open it once we reached a predetermined destination. So, the package would have a label, "Effingham, Illinois," and the kids could open the package when we drove through Effingham. This gave them something to look forward to, and then the activity occupied them for some of the ride.
See Child-Friendly Sites
When you're traveling with the preschool set, you won't be able to see all of the destinations you'd prefer as an adult. Instead, know that you'll have to include many child-friendly sites and activities. For our Boston trip, Blair remembers throwing the boxes of tea off the ship and the costumed interpreters throughout the city.
Remember, your kids are only little once. As they get older, you can visit attractions designed for tweens, teens, and adults.
Bring Lots of Snacks
Two things make kids this age cranky—lack of sleep and lack of food. We always bring abundant snacks to combat the latter. We have car snacks, which is especially important if you're traveling in a deserted area without many food options. When we're at our destinations and seeing sites, I always put snacks and bottled water in my backpack because a child will get hungry, even if we're only out for two or three hours. My kids are all teens now, and we still carry ample snacks when traveling
For Older Kids
Once our kids got older, they needed fewer breaks on the road trip, so we were able to travel faster. However, I continued to bring travel diversions for them. We also used these techniques.
Create a Travel Map
Using Google Maps, I printed out our entire route for each trip. I put the maps in a transparent cover and give the kids dry-erase markers. They can mark our route as we go and see exactly where we are and when they get to open their road trip surprise (yes, I pack surprises for the kids to open at specific destinations even into their teens!).
Give Them a Say in the Trip
I would be happy visiting museums, historic houses, and living history museums everywhere we go. Some of my kids, not so much. Instead, now that they're older, we let them each determine at least one activity we'll do during the trip.
For instance, we recently went to Philadelphia, and one of our kids wanted to go mini-golfing. Since we could have gone mini-golfing anywhere, that wouldn't have been my choice in a vacation destination. But we did it, and this child had a great time. Mini-golfing was one of the highlights of the trip for her. My other daughter picked visiting The Franklin Institute, which, again, I would not have chosen, but we had a good time, and that destination was another highlight of our trip.
Give Them a Digital Camera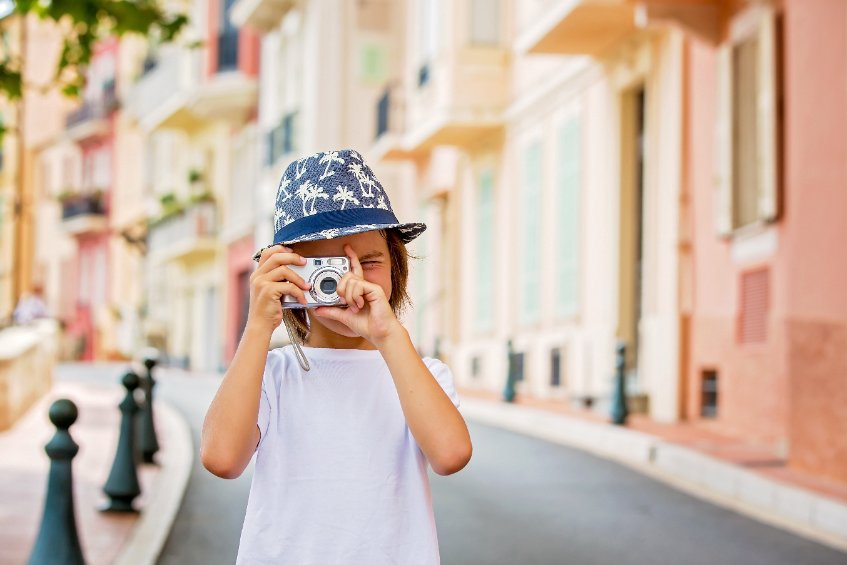 If you have the means, give each child a digital camera. They can take pictures of the sites you're seeing and make albums of the trip. They can also have fun taking silly pictures of themselves or one another.
Spring for Extra Space
If you travel with a kid who isn't a good traveler, is that child an introvert? My guess is yes. Blair is an introvert and, like most introverts, needs time to unwind and recharge alone. Unfortunately, that can be tough to do when sharing a hotel room.
If you can, consider paying for extra space. For instance, instead of booking a hotel room, book a vacation rental by owner. If each child can get their own room, the reluctant traveler can have time to recharge and unwind alone. For Blair, part of the travel struggle is spending all day, every day of the vacation with family with no personal space. Larger accommodations can solve this problem.
Final Thoughts
You may consider abandoning travel with a kid who isn't a great traveler, but remember all of the benefits that come from traveling—seeing new locations, how other people live, and learning living history. Rather than abandon traveling until your child grows up, try some of these techniques to make your next trip smoother.
Read More
Vacation Before Your Kids No Longer Want to Hang with You
4 Road Trip Tips When Traveling with Tweens
Traveling with Toddlers: How to Bring the Kids without Going Crazy
Melissa is a writer and virtual assistant. She earned her Master's from Southern Illinois University, and her Bachelor's in English from the University of Michigan. When she's not working, you can find her homeschooling her kids, reading a good book, or cooking. She resides in Arizona where she dislikes the summer heat but loves the natural beauty of the area.