My son was just 3.5 years old when my brother died.  My son was close to my brother, and telling him that his uncle had passed away was extremely difficult.  Because death was such an abstract topic for a child his age and because he loved to be read to, we bought many books to help him understand.  These are what we found to be the best books for when he was young and when he was older.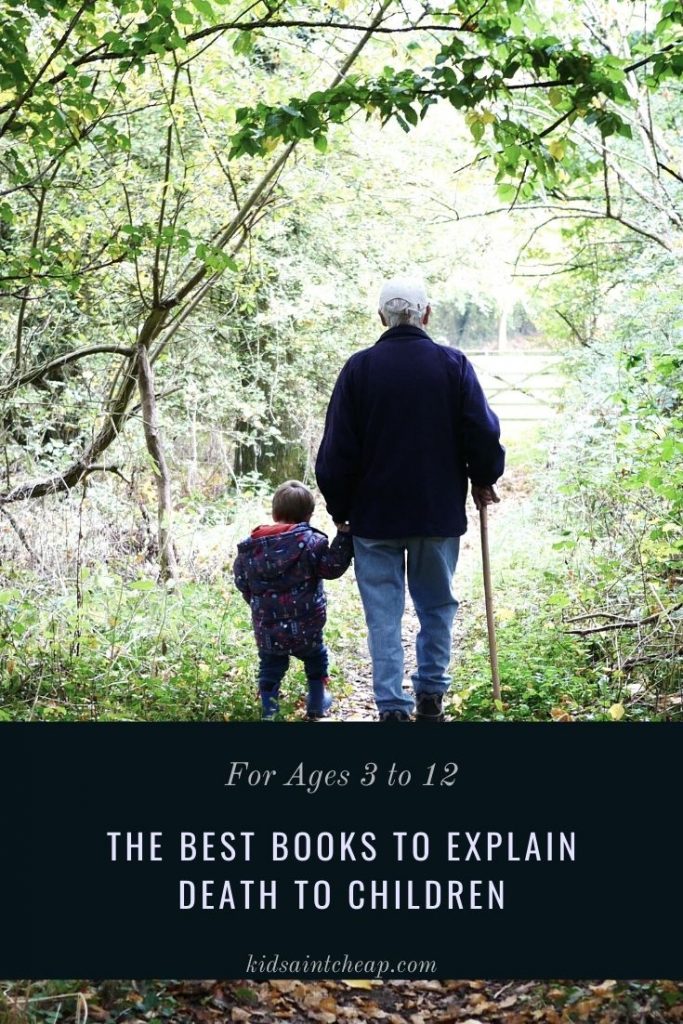 Best Books to Explain Death to Young Children
If you have young children, say three to five years old, these are the best books I can recommend based on personal experience.
What's Heaven by Maria Shriver
Maria Shriver wrote this book when her grandmother, Rose Fitzgerald Kennedy, died and her children had questions about death.  The story does have a spiritual/religious element to it, but the book can truly be read by people of all faiths.
In the story, Kate's great-grandmother has just died and her mother answers Kate's many questions about Heaven.  I like the soft, dreamy feel of the illustrations.
Badger's Parting Gifts by Susan Varley
This story doesn't delve specifically into death but in missing the ones we love.  In Badger's Parting Gifts, Badger is old and heads down the long tunnel.  His friends go to his house the next day and are sad that he is gone.  While they cry in the beginning, in the end, they reflect on all the things that Badger taught them to do such as skating across the ice and learn to tie a tie.  By the end of the book, all of Badger's friends join together and share fond memories of Badger.
I Miss You: A First Look at Death by Pat Thomas
I Miss You is a book that we read over and over to our son.  This book is perfect for young children as it shares the feelings, including guilt and sadness, that people may feel after a loss.  It also explains how the child may behave, such as withdrawing from others, and the awkwardness that others may feel, and how they may avoid the person who has suffered a loss.
God Gave Us Heaven by Lisa Tawn Bergren and Laura J. Bryant
God Gave Us Heaven comes from a Christian place.  This book explains that people die and go to Heaven.  The book promises that no matter what pain and suffering we have in life, there will be no more of that in Heaven.  This book has young polar bears asking their parents about Heaven, and they receive reassuring answers.
The Invisible String by Patrice Karst
The Invisible String doesn't deal specifically with death.  Instead, the mom comforts her twins when they're scared about a noise in the night.  She tells them that no one is ever alone because we're all connected to the people we love with an invisible string.
While this book would provide comfort to a child dealing with the death of a loved one, it would also soothe little ones dealing with separation anxiety.
Best Books to Explain Death to Older Children
Even a few years after my brother's death, my son still wanted to talk about it and process it, so we had books that we read to him then, too.  These books are good for ages six to twelve.
The Fall of Freddie the Leaf by Leo Buscaglia, Ph.D.
A family friend gave us The Fall of Freddy the Leaf, and I must confess, it made me cry.  The story is about Daniel and Freddie, two leaves on a large tree.  They grow together through the spring, the summer, and the fall.  When the leaves start to fall, Freddie asks Daniel what is happening.  Daniel explains about death, and Freddie is at first angry.  He wants to know what is the point of life if they just have to die.  Daniel patiently answers Freddie's questions before Daniel slips gently from the tree branch.
By the end of the story, Freddie is the last leaf, and as he finally falls from the tree, he is at peace and understands his reason for living.
When Dinosaurs Die by Laurie Krasny Brown and Mark Brown
One of the co-authors of this book is Mark Brown, the creator behind the kids' show, Arthur, so kids will likely recognize the style of the illustrations.
There is no main character in this story.  Instead, the book explains what it means to be alive and what it means to die.  The author also explains why people die.  (Be warned, for young children, there are deaths from drug overdose and suicide mentioned here.)
The book also explains what people may feel when their loved one dies and validates those feelings.  The authors also suggest ways to deal with these feelings.  The book is mostly secular and discusses various burial rituals as well.
Maybe Dying Is Like Becoming a Butterfly by Pimm Van Hest
This book, recommended for 1st through 4th graders, is written by a psychologist.  The story itself is very comforting.  A young child asks his grandpa if he should catch a caterpillar.  Grandpa says no because it might die, which prompts the discussion about death.
For most of the story, grandpa answers Christopher's questions, including if grandpa is scared to die.  By the end, Christopher decides that death is like a butterfly—maybe after death, there is something else like after a caterpillar is gone, there is a butterfly.
Parents might also enjoy that the last page of the book includes suggestions and tips for discussing death with children.
Final Thoughts
Dying is a part of life, but when death comes and children are too young to understand, explaining the concept can be difficult.  My son, at 3.5 years old, was too young to understand losing a loved one, but he got a better understanding through many of these best books to explain death to children.  Even though we've moved on from our loss, we still keep these books because they've become a beloved treasure to remind us of a difficult time.
Melissa is a writer and virtual assistant. She earned her Master's from Southern Illinois University, and her Bachelor's in English from the University of Michigan. When she's not working, you can find her homeschooling her kids, reading a good book, or cooking. She resides in Arizona where she dislikes the summer heat but loves the natural beauty of the area.