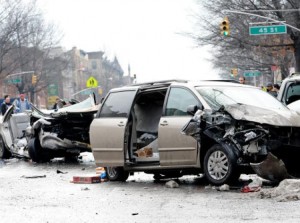 It's the time of the year when car accidents are prevalent. The snow is quickly accumulating in most areas and vehicles tend to slip and slide on the road.
As careful as you might be you can't control other drivers on the road and a car accident can come out of nowhere. If your family is involved in a car accident here's what to do.
Stay Calm and Call for Help
It's important to stay calm if you're in an accident and it's even more important if your children are with you.
If you haven't sustained any injuries check on all of the members of your family and the passengers in any other vehicles involved. Quickly assess the situation and call for help.
Even if no one has been injured it's still important to call the authorities and file an accident report.
The calmer you remain the better you'll be able to help your children. Even if they haven't been injured they're most likely very scared.
Contact Your Insurance Agent
After the authorities have been contacted and medical treatment has been provided for any injured passengers, you should contact your insurance agent.
If the accident was your fault your agent can take necessary information from you and file a claim with your insurance company. If the accident was caused by another driver your agent can file a claim with the at fault party's insurance company on your behalf. If you don't have the insurance information from the other drivers involved your agent should be able to get this from the accident report.
Your insurance agent will be able to walk you through the claims filing process and assist you with any questions you have.
Seek Legal Counsel if Needed
If a serious injury was sustained by a member of your family you may need to contact a disability or personal injury lawyer.
A disability lawyer such as Preszler Law Firm or an accident law firm like can assess your situation and help you determine what kind of damages are owed to you by the insurance company. It's especially important that you contact the best personal injury lawyer in your area if you or one of your family members have sustained long term injuries.
Since personal injury lawyers work with insurance companies on a daily basis they'll be able to look at your situation and evaluate what type of compensation you should receive for your injuries. You might be entitled to payment for your long or short term medical bills, pain and suffering, and loss of wages.  If you to learn more about costs, see this.   Its the webpage for Obrien and Ford, a solid accident firm in Buffalo, New York.  They have some solid information for people who need legal counsel.
If you aren't sure whether the insurance company is treating you fairly a personal injury lawyer can help.
Talk to Your Children
As parents we want to shield our children from everything bad in the world. Unfortunately, accidents happen.
Being in a car accident can heavily impact a child. Talk to your child about what she is feeling and do your best to comfort her. In some cases a child may need to talk to a professional counselor to help deal with her feelings.
Car accidents happen.  Do you have any other advice?