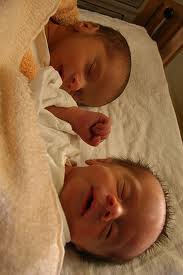 I love having twins! People always ask me if it's a lot of work and I say, "Sure it is, but it's worth it." They truly are a double blessing. Here are some of the best things about having twins.
A Baby for Everyone
One of the first things I loved about having twins, was that they were easy to share. After the boys were born, my Mom and Mother-in-law were so happy that they each had a baby to hold. When people came to visit, there weren't any awkward, "quit hogging the baby" moments — because there was usually one up for grabs.
Some new mothers feel like everyone is holding their baby but them; or that they only get the baby when they need to be fed or starts crying. Not so much with twins — I am happy to report that I got lots of baby holding time and so did all the other people that love them.
Two Bald Baby Heads with Toothless Grins
Some of my favorite moments of the day, were when the boys would wake up from their naps, or first thing in the morning (especially if they slept in). As soon as I would hear them making cute baby noises; I would go into their room. That's when I would see the cutest little bald babies smiling at me, with their adorable toothless grins. I loved that!
Rinse and Repeat
Having two infants at the same time was a little intense. The best twin advice I received was "What you do for one, do for the other." This saved me so much time and frustration. It took a little while for us to get in the groove of things but once I remembered that advice – and put it into practice – things flowed much more smoothly.
They ate at the same time, I changed their diapers at the same time (whether the other one needed it or not), I put them down for a nap at the same time, and as soon their sleep schedules began to sync, life got a tiny bit easier. Plus, I got really good at doing things, because I would do it once and then immediately do it again. Except feeding. I always fed them at the same time, otherwise I wouldn't have had time for anything else.
Built in Best Friend (wrestling buddy)
My boys always have a playmate. Of course, that can also work against me when they are fighting — but if you have more than one kid it's bound to happen. When they were newborns, they didn't really look at each other much but they loved to be side-by-side. One would lay their head on the other's shoulder or they might hold hands. It was so adorable!
Now that they are older, they have inside jokes, they giggle and chat before falling asleep and again when they wake up, they make up all kinds of fun adventures and work together to achieve a common goal. They are also more confident when experiencing new situations, because they have each other.
Twins Community
I am part of a wonderful community of twin parents. You know how motorcyclists wave at each other as they pass on the road; it's kind of like that for parents of twins. We might stop to swap stories or just give each other a knowing smile. We share a common bond and it's always nice to talk to other parents of twins. I especially enjoy meeting twins who are grown-up. They provide fantastic insights.
2-for-1 Deal
It took awhile for my husband and I to have children. We always said we were going to have two; we just didn't know it would happen at the same time. Sometimes, I wish I could have experienced two pregnancies but I am very thankful for the one I did have. I got two babies and only had to go through labor once — that's a pretty good deal. Plus, I have two very healthy little boys. I couldn't ask for more than that.
People Tell Me I'm a Supermom
This is always nice to hear and I really appreciate when people take the time to tell me this. It's very sweet. Truth is, I think there are a lot of Supermoms (and Dads) out there, who work very hard for their children every day. That's what being a parent is all about – no matter what hand you are dealt – a good parent will just do what needs to be done to care for their child or children, no matter what.
I once had a lady say to me, "You have twins? Wow! I don't know how you do it. I have one three year old and it's insane. I would have killed myself if I had twins." Yikes! Better me than her I guess.
The Same but Different
My boys share a birthday, they both love superheros and fire trucks, and the both love their dog but they are really so very different. For one thing A. will eat just about any fruit on the planet but N. really only likes apples and grapes (thankfully he's not as picky about veggies). Before they were even born, A. was pretty chill and N. moved around like a wild man. After they arrived — A. was pretty chill and N. was a wild man.
They don't look alike, they don't dress alike and they certainly have different ideas about things — but at the end of the day they are best buddies. If they are apart for any length of time – as soon as they see each other – they are so happy to be together again.
There's really so much to love about having twins! There's double the hugs and double the kisses. There is no feeling in the world like holding a sleeping baby in each arm. Sometimes, I still try to carry them both for old times sake, but it's getting much more difficult.
I am so thankful to be a mother of twins. It has been an amazing experience so far — and the adventure has just begun!
The blessings of raising twins, certainly outweigh the challenges.
Do you have twins? What do you love most about having them?