Many people think of having twins and immediately think of the negatives.  Twice the expenses at once, twice the chaos. . .But these misconceptions only tell part of the story.  Many moms of twins share that there are incredible perks to being blessed with two babies at once.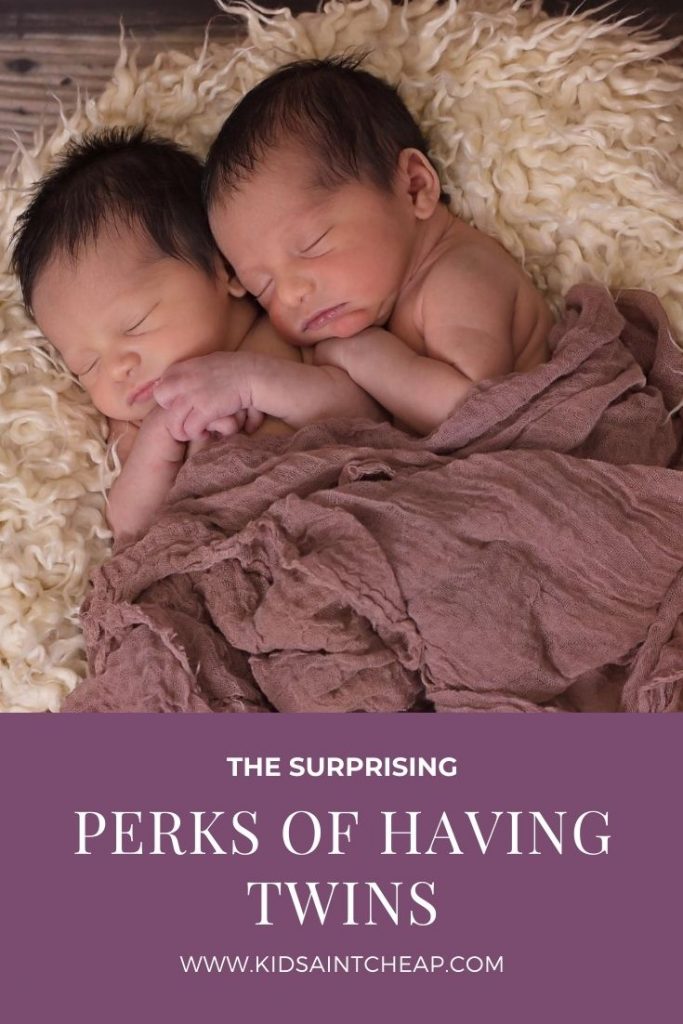 Perks of Having Twins
There are many benefits of having twins that most people don't think of.  Consider these.
Double the Tax Deduction Instantly
When you have a new baby, you qualify for an additional tax deduction, but with twins, you immediately get double the tax deduction!  That can make quite a difference on your yearly tax return and can help pay for some of the extra expenses twins incur.
One Pregnancy—Two Babies
If you have easy pregnancies, you likely won't care about this perk.  However, for women who struggle through pregnancy with morning sickness and discomforts, this can be a true joy.  One pregnancy, but two babies!  If you only want two children, you could reap all the rewards of having two kids but only struggle through one pregnancy.  Yes to that!
Built-In Friends
My cousin has twins, and she said the first year was extremely difficult.  After that, though, she felt that she was luckier than other moms because her twin sons each had built-in playmates in one another.  While many kids when they're young rely on their parents to keep them entertained, she said her boys did that for one another.  She enjoyed watching their "twin language" develop and the way they played with each other for hours.  No play dates required.
Share Clothes
If your twins are the same sex, they can share clothes.  This gives them twice the wardrobe at the same price as buying clothes for singletons.
Easier Homework Time
When you think of the perks of having twins, you likely don't think of homework time.  Yet, if your twins are in the same class and have the same teacher in elementary school, they both have the same assignments due.  Rather than looking at two or three different sets of homework as you would if you were mom to two singletons, the twins will get the same homework, making your job as homework assistant easier.
Discounts for Twins
Did you know if you have twins you can get discounts at a surprising number of places?  My cousin said that she received discounts on daycare when she registered her twins.  A quick search on the web shows that many, many companies offer parents of twins discounts for all sorts of items from mattresses, to formula, to sleeping pods.  The list goes on and on.
Sure, you'll be paying more out of pocket when you make a purchase times two, but you may save more overall compared to buying twice with singletons because you get a discount.
Final Thoughts
While it is true that by having twins you can face double the expense at one time, there are also many perks of having twins that save you money and time.
Read More
Tips for Approaching Parents of Twins
What I Love Most about Having Twins
Tips on Buying Gifts for Twins
Melissa is a writer and virtual assistant. She earned her Master's from Southern Illinois University, and her Bachelor's in English from the University of Michigan. When she's not working, you can find her homeschooling her kids, reading a good book, or cooking. She resides in Arizona where she dislikes the summer heat but loves the natural beauty of the area.