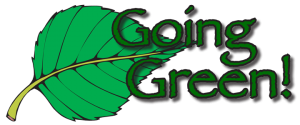 Do you want to save money in an environmentally conscious way?
Going green can sometimes seem expensive. Especially when you compare the shelf prices of green products verses regular products. But, by trying to live a more environmentally conscious lifestyle you can help make the world a better place for future generations to come.
If you're trying to go green without breaking the bank here are three ways you can do just that.
Make Your Own Cleaners
Going green is becoming increasingly popular and because of this many green items have a hefty mark up. One of these items is household cleaners.
Instead of purchasing cleaners from a big box store you can make your own for much less money. Here are some natural alternatives to chemical cleaners:
Baking Soda: cleans and deodorizes.
Lemons: kills household bacteria.
Isopropyl Alcohol: can be used as a disinfectant.
White Vinegar: will remove grease, mildew, and some odors.
Cornstarch: can be used as a window cleaner or as furniture polish.
There are also all types of combinations you can create to replace your favorite name brand cleaners. You can easily find a natural recipe for the cleaner you need online.
In addition to household cleaners you can make your own toothpaste, soap, and laundry detergent.
Don't Throw Away – Recycle
The next time you think about throwing something out check and see if it can be recycled. By recycling you can help out the planet and even put some cash back in your pocket.
You can recycle things such as aluminum cans, copper, steel, plastics, and paper. You should also think about recycling appliances and electronics. You can reduce your carbon footprint by practicing computer recycling, cell phone recycling, and the recycling of your other electronics.  You just need to find a recycler like Vernon Technology Solutions to help.
Don't forget about up cycling, either. A lot of times you can breathe new life into an old item. Things like small furniture, fabric, and old flower pots can be refurbished or turned into something new. If you don't want to up cycle an item consider selling it or donating. This way your unwanted items won't wind up in a land fill somewhere.
Rent Instead of Buy
Another great way to reduce your carbon footprint is to rent instead of buy- this is especially true with electronics.
If you occasionally need a tablet you can rent ipads instead of buying them. The same goes for renting computers. When you're in a bind you can rent a computer for a specified time rather than shelling out hundreds of dollars for a new one.
Other Ways to Be Green and Save
Reducing the amount of harmful impact you do to the environment isn't limited to just these three things. There are others things you can do to help out the planet and your pockets.
Here are a few:
Shop for clothing at thrift stores
Take shorter showers
Unplug appliances and electronics not in use
Don't waste food
Drive your car less
There are many green things you can incorporate into your everyday life. The little things you do can have huge impact.
How do you save money by going green?