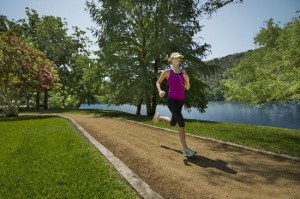 How many times have you tried to stick to a diet but failed after about a week? If that sounds like you, you're not alone.
It's often said that 95 percent of dieters fail. While that number isn't technically accurate I don't think it's too far off. If you're stuck in the dieting trap let's look at how you can maintain a healthy lifestyle without depriving yourself.
Change Your Lifestyle
Going on a fad diet is not a good way to lose weight or maintain a healthy lifestyle.
Whether you're trying to shed a few pounds or just live a healthier life, you need to develop long lasting habits. To maintain long term results you need to gradually transform your bad habits into good habits.
It's important to start small and slowly incorporate changes into your life that you'll be to maintain long term.
Start with Your Diet
Changing a diet is where most people fail. And, this is all due to perception of the word diet.
Whether you're trying to lose weight, tone up, or improve your health a diet should be looked at as a long term solution not a temporary fix.
The changes you make in your eating habits should be sustainable. If you can't imagine living your whole life on a liquid only diet – don't even try it.
They key to maintaining better long term eating habits is moderation. If you currently take in 2500 calories a day don't try to limit yourself to 1,000 calories right off the bat. Slowly work your way down to a more healthy level.
And, it's also important that you occasionally treat yourself. You don't need to cut everything out of your diet. Focus on serving sizes. And, occasionally treat yourself. Everyone needs some Ben and Jerry's every once in a while!
Find an Exercise Routine You Enjoy
If you hate exercise it could be that you've never found the right exercise program.
There are so many things you can do for exercise anything from running on a treadmill, to taking a kick boxing class, dancing, doing yoga or Pilates, or even swimming.
Exercise doesn't have to be boring. You can check out free exercise videos on YouTube and start your search from there. Exercise can also be more enjoyable when you have a friend by your side.
Ask a friend or family member if they'd be interested in taking an exercise class or meeting up at your house to do an exercise video.
Once you find a program you like be sure to slowly incorporate more and more exercise into your life.
Don't Beat Yourself Up
We all fall off the bandwagon at one point or another. The difference between failure and success is admitting when you've messed up and taking that step back into your more healthy routine.
You're not going to develop a healthier lifestyle overnight. It's going to take time to build up your new, healthier habits. Remember to do things in moderation, treat yourself occasionally, and find exercise that you love. Take it one step at a time and you'll develop a sustainable, healthy lifestyle.