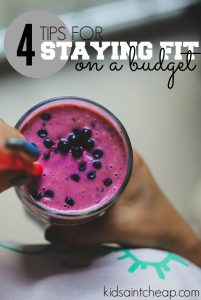 Exercise is something that's always been important to me. Growing up, my mom treated the family every year to a family membership at a local rec center. We loved it! We had unlimited access to multiple swimming pools, skating rinks, classes for all ages and as we got older we capitalized on the use of the gym.
Having a rec center membership isn't an option for everyone. Not only does everyone not necessarily have access to a rec center, they can be expensive. For us as a family, while we work towards other financial goals, we've opted to not have a membership and instead stay fit with what we can do at or from home. Most things are pretty cheap, if not free.
Get Outside!
This is the easiest way to stay fit. Go for a walk, ride a bike, find a place to hike. The best shape I've ever been in was when I was walking 5km every day round trip to school. Since we don't have access to a rec center my husband recently bought a new bike that was on summer clearance. This is something he'll be able to use for years to come and didn't cost much at all! I love walking and when I'm home with kiddo I like to put her in the stroller and walk around our neighbourhood. Hiking is another favorite activity of mine though I don't get to do it as often.
YouTube
When I was home on maternity leave I would search for YouTube exercise videos to help with the baby weight. Combined with a good diet and regular walks with the baby I got to my pre-baby weight. There are entire YouTube channels offering free workout videos depending on what you're looking for.
Home Workouts
There are entire companies out there that were established to make working out at home possible. I recently started following the video series of one of these programs and actually really like it. I can do it from the comfort of my home and all I need is a few cheap weights (check local second hand stores or garage sales), and a yoga mat. Be careful you don't get sucked into buying some of these companies' nutritional supplements though. They usually have a reasonable ''first time'' price but can get you on subsequent orders. Eat a well-balanced diet and exercise, you don't need fancy supplements.
Check Out Local Programs
Our local library often has fliers advertising free or cheap classes, everything from toddler ballet to 65+ Tai Chi. Some of the courses are free (Yoga in the park every Sunday!), but some have a small fee associated. When I was in university I partook in a cheap learn to run course and it was a great experience, I was especially thankful for my tight budget!
Some people only think of fancy gyms and pools when it comes to losing weight and staying fir when the reality is that you can live a very healthy life without paying for anything.
Do you have any tips for staying fit on a budget?
Catherine is a first time momma to a rambunctious toddler. When she isn't soaking up all that motherhood has to offer, you can find her blogging over at Plunged in Debt where she chronicles her and her husbands journey out of debt. You can also follow her on Twitter.