In our area, we've had the pleasure of stumbling upon a painted rock more than once, to the delight of whichever one of my kids finds it.  In fact, our city has its own Facebook page where people can share the rocks they've found around town as well as the rocks they have painted and placed around town.  There are over 13,000 members in the Facebook group!  If your family would like to get in on this fun hobby for kids, there are many easy rock painting ideas for kids.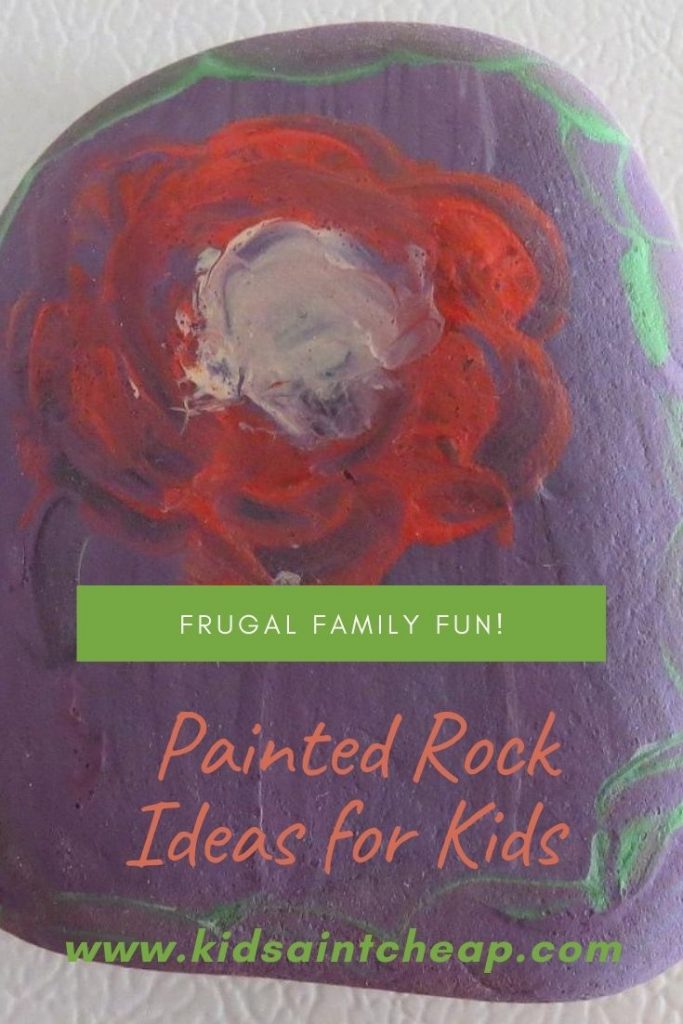 Rock Painting Ideas for Kids
If you're looking at rock painting ideas, I'd encourage you to first see if your town has a Facebook group.  You can simply search the name of your town and rock painting; if there's a group, you'll find it that way.
However, Facebook rock painting groups can be a bit intimidating because there tend to be so many fabulous artists there.  If you or your kids' skills are a bit more elementary, I've found YouTube to be a good place to search.
Ideas for Those 10 and Younger
To get kids excited about rock painting, try to pick designs that are easy enough for young kids.  The best ones seem to be designs that involve painting the entire rock as something like a ladybug or a strawberry, for instance.
There are so many tutorials on YouTube that will spark your children's creativity!
For younger kids, Missy Maker has a tutorial showing kids how to make rock ladybugs, and giving examples of rock painting bees, minions, Shrek, and Nemo.
Ideas for Tweens and Teens
For older kids, rock painting can be an even more engrossing hobby.  Once kids' artistic talents are a bit more developed, there are so many designs to pursue.
Tweens and teen can start using more advanced supplies like acrylic paint markers for more fine-detailed work like outlining and writing phrases on the rocks.
If your teen is a beginner, this video explains the whole rock painting process as well as designs for tweens and teens.
Rock Painting Ideas for the Whole Family
If you have children of varying ages and abilities, you can use a YouTube video like this one.
This video doesn't show specifically how to paint the rocks, but it gives ideas for many different designs for all types of abilities.  I also enjoy tutorials with painting ideas for every season and holiday!  My kids who are 10 and under love painting simple flowers.
Final Thoughts
Rock painting can be a fun, low-cost hobby for everyone in the family, especially when you take the time to hide the rocks around your city.  It's even more fun when you join a Facebook group and look to see if anyone has found your hidden rocks.  This hobby is also easy to start using some of these fun rock painting ideas for kids.
Melissa is a writer and virtual assistant. She earned her Master's from Southern Illinois University, and her Bachelor's in English from the University of Michigan. When she's not working, you can find her homeschooling her kids, reading a good book, or cooking. She resides in Arizona where she dislikes the summer heat but loves the natural beauty of the area.