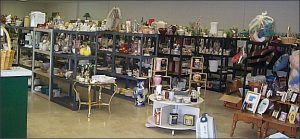 Due in part to the rise of the green movement, secondhand shopping has become easier and more popular than ever. Even celebrities are buying secondhand and vintage stuff and are proud of it! When we buy, sell or swap pre-owned items, we are putting the 3 R's (Reducing, Reusing and Recycling) to good use, for the benefit of ourselves and our planet. Furthermore, when we buy something that is pre-owned, we are reducing the amount of waste normally associated with buying new items, such as boxes, paper tags, plastic packaging and the like.
Why Buy Secondhand?
We know that when we buy secondhand goods, we are going to save ourselves some money. Another compelling reason to buy secondhand items is that no new resources are required to make them. This includes materials and packaging as well as the resources used in the manufacturing process, such as heat and electricity. Also, there is less transportation involved when we buy from a local resale shop or exchange goods with people in our own communities. When new owners can be found for unwanted items, this also prevents these things from from ending up a landfill.
What Can Be Bought Secondhand?
Although some of the more common things to find in a resale shop are children's clothes and toys, it is also possible to find pre-owned treasures in just about any category. Goodwill stores, for example, not only sell clothing, but also Halloween costumes, furniture, and home decorating items, some of them new. At my local Goodwill store, I have even found holiday wreaths, kitchen towels and candles-all offered at discount prices.
Looking for pre-owned books? There's a place for that. Going to a gala event or planning a wedding? There are secondhand stores that specialize in couture gowns and wedding dresses. Building a house or remodeling? Look for a store in your area that carries left-over building materials, factory seconds and donated household items. It is amazing what you can find if you know where to look. A friend of mine even found a kitchen sink for her new home..who knew!
Where Can You Buy Second-Hand?
In addition to your local resale and consignment stores, there are some other options available on the Internet. eBay (www.ebay.com) is a site that allows consumers to buy and sell both new and used items. It is a good place to start if you have a specific item in mind and do not want to waste time going from store to store. It is also a great way to track down a hard-to-find toy that your child has been begging for, but has been discontinued in retail stores. While Blues Clues toys may not be the "it" things anymore, try telling that to a child who still loves the show! Been there, done that. And just in case you were wondering, I was able to locate both Steve and Joe dolls on eBay. Need I say more?
Another option is Craigslist (http://craigslist.org/), a free, online community bulletin board where people can buy and sell pre-owned items. Furniture Findex (www.furniturefindex.com) is a website that allows people to list items online that they wish to buy or sell, in this case furniture, and is organized according to zip code.
There are also several websites that allow you to trade with, or donate to, others within the network. One such website is The Freecycle Network (www.freecycle.org), which lists local groups who are interested in swapping with one another. As with any online consumer service, remember to prioritize your own personal security. Set up a neutral meeting place to make an exchange or else make sure someone is with you when you are buying from or selling to a stranger.
Have other green or secondhand shopping tips? We'd love it if you shared them!