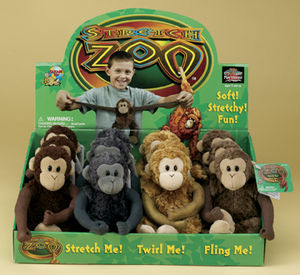 One hot July day, my then four-and-a-half-year-old son and I went to a neighborhood yard sale, where he found the new love of his life-a scraggly-looking, brown monkey with stretchy, rubbery arms. But there was something in monkey's sweet, wise face that struck a cord with my son and a new friendship was born. With a soft, cuddly body and stretchy arms that could be pulled back and then let go for a sling shot effect, what's not to love? "Stretch-o," as he would come to be named, accompanied my son everywhere. To preschool, on car rides, to the store, and of course, to bed with him every night. You know where I'm going with this, right? You guessed it. One night at bedtime, my son asked, "Where's Stretch-o?" Stretch-o was nowhere to be found. Darn it. After a perfunctory search of the house-still nothing. "He must be at school," I told him.
Stretch-o Lost & Found
After a few days, it became clear that we were not going to find him. My son cried every time he thought about it, telling me many times during the day, "I still feel sad about Stretch-o." I thought my heart might break. After we realized that Stretch-o may be lost good this time, the search began for his replacement. Before the invention of the Internet, if a child lost a beloved toy, parents would have to call or visit multiple stores, hoping to find an exact replica, sometimes coming back empty-handed. I have a friend whom, before the Internet was what it is today, called every Hallmark store on the East Coast to find a particular stuffed dinosaur for her son, finally locating one in Florida. But in my case, I googled "stretchy monkey arms" and was immediately rewarded with search results showing a number of online stores with Stretch Zoo Monkeys. Hooray for Amazon.com. Gotta love them. So with Stretch-o #2 on his way, things were definitely looking up.
Fast forward a couple of days when my neighbor's son was over playing video games with my son in the basement. "We found Stretch-o!" My neighbor's son yelled from downstairs. My son then came running up the stairs with his monkey in his arms. Stretch-o had been hiding between the television and the video game console, visible only from certain angles. "I'm so happy for you," I said. "Now you'll have two!" In two more days, Stretch-o #2 arrived, who was later named "Elastic." Well, Elastic and Stretch-o made a good pair for about a week before Elastic also went missing. "I don't care," my son said. "I still have Stretch-o."
Elastic gets replaced
That was about one year ago. Elastic never turned up, but Stretch-o is still with us, although he is a little worse for the wear after multiple surgeries with needle and thread. With his birthday approaching, my son has asked for a "brother" for Stretch-o. No longer available on Amazon, my heart skipped a beat. But thanks to the wonders of the Internet, another was found and is on its way. What did we do before we had this instant gratification known as the World Wide Web? What did our kids do? I am sure we made it through somehow, although it is hard to remember a time when we had to do research the old fashioned way and we had to deal with disappointment when we simply could not replace something valuable and rare. I am sure there is a lesson to be learned here, including that kids have to learn the value of money and possessions and to not take things for granted and yada, yada, yada. That being said… in the astute words of the credit card commercial….Stretchy Monkey from the online toy store…ten dollars, including shipping… a birthday wish coming true for my little boy….priceless.
Has your child ever lost a favorite toy? What did you do?