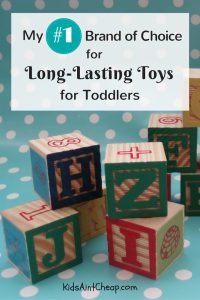 What do toddlers love? Getting into EVERYTHING. That's why I want my money to go toward products that will inspire my curious kids, entertain them, and last longer than three days. Therefore, here is my all-time favorite brand of long-lasting toys for toddlers.
My #1 Brand of Choice for Long-Lasting Toys for Toddlers
When my kids receive an invite to a birthday party (especially if they're toddlers), I head straight toward one particular section in the toy department first:
Melissa & Doug.
Why I Recommend Melissa & Doug Toys Above the Competition
I can't help it; their products win me over time and time again. Here is a breakdown of my top reasons why:
They're well made. The durable craftsmanship of each toy and the use of wood and metal instead of plastic ensures that these are long-lasting toys for toddlers and older.
They teach a skill. Each toy or activity I've come across in the Melissa & Doug line inspire the child to use her imagination, explore her problem-solving skills, or improve hand-eye coordination.
They're better for the environment. With the longer lifespan of each toy and the use of natural products instead of plastic, the carbon signature is greatly reduced.
They help kids focus. My go-to toys for road trips, waiting rooms, or long lines at the grocery store are Melissa & Doug. With their colorful and creative designs, they hold children's attention spans. That drew me since I know how important it is to teach children to focus at a young age.
They help kids have fun without using a screen. No technology. No flashing lights. No batteries. I love that my kids can enjoy toys like these for hours each day without seeing any of the side effects of too much screen time.
If you've never shopped for Melissa & Doug toys before, here a few great toys to try first. I've seen positive results with each of my children, and even their friends when they come over to play. Whether they're in the car, playing right beside me, or alone in quiet time, these toys are a continual source of fun in our home.
Long-Lasting Toys for Toddlers – Ages 1 to 2 Years
Chunky Puzzles. The great thing about these early learning puzzles is that little fingers can grasp the pieces easily and figure out where they go. Both of my children learned the art of puzzling first from a Melissa & Doug 8-piece Chunky Puzzle (and they still play with it).
Activity Boards. Like puzzles, these sturdy and colorful activity boards offer toddlers a chance to buckle, bolt, snap, lock, and latch as fast as their tiny hands can manage it. This is an exceptional activity to promote hand-eye coordination and, if you're like me, you'll find yourself tempted to put the activity board together, too, when no one's watching. ::cough:: So that's just me, then?…
Long-Lasting Toys for Toddlers – Ages 2 to 3 Years
No-Mess Painting Craft. Did I mention how much I love taking Melissa & Doug products on road trips? The kids love painting with these Melissa & Doug On the Go Water Activity Books. They simply use a brush with water inside and the colors appear on the pages. After a few minutes, the colors fade and the children can paint on them again. This has been great for my 3-year-old who can write her alphabet and numbers, largely in thanks to the ABC and 123 Water Activity Books we own.
"Make-Believe Play" Toys. My niece recently received a Melissa & Doug Christmas Cookie set. I watched throughout the rest of the night as she walked around the room offering each family member a wooden Christmas cookie with a huge grin on her face. It's so fun to make believe and to do so with such adorable toys. For example, if you're a coffee drinker, your child might like to become a little barista with this Melissa & Doug Wooden Brew & Serve Coffee Set.
These are only a few options of things your children might enjoy. I shared them because they are the ones my own children have enjoyed. Now, I encourage you to browse around and try one out for your own toddler. I bet he or she will have a lot of fun with it for a long time.
What long-lasting toys for toddlers have you found? Share them in the comments below!
Image Credit: Tiffany Terry (Creative Commons)
This post contains affiliate links.