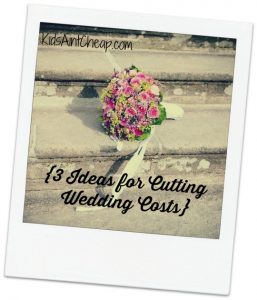 Before Kids, is often marriage, and weddings can be expensive! After Kids, sometimes mom and dad help with wedding bills again. Either way, saving money on wedding costs is of interest for anyone looking to get married or helping offset a wedding for a child.
A lady I know has a daughter who is getting married next June. We recently got talking about wedding expenses and she was mentioning how much effort she and her daughter have gone through to cut the budget from $35,000 to $25,000. She was talking to me in such a way that she was looking for some support in the aspect that a wedding should be able to get done for $25,000. My reaction was that I had a beautiful wedding for much less than $10,000. She asked how it was possible to have a wedding for "so cheap" and I detailed a few areas for her and her daughter to consider cutting back:
The Dress
Granted I was never one of those girls who had to a designer label dress. It was a dress. A dress that I would wear once. I simply could not justify spending thousands of dollars for something I would never wear again. Yes, I wanted to look pretty but again, I was bound and determined to find a reasonably priced dress that wouldn't break the budget. 

Being open to shop off the rack opened a whole new world of wedding dresses to me. I didn't care the the dress had been tried on hundreds of other times by other women, I could have it dry-cleaned. I found, what I consider to be an exact style I was looking for, off the rack for $550 (was retailing for $2,100). There was a small tear at the end of the train in the back which didn't affect me at all since the dress was going to be hemmed and altered drastically. The beading was perfectly intact and no other stains, rips or tears. For an upfront cost of $550 (taxes in since it was considered 'used') and another $100 for dry cleaning and alterations, I had my bridal gown.
Also, because I bought my dress from this store they gave us my husband's tux rental for free!
Paper Products
How many weddings have you been invited to and actually kept  the invite or program? Very few I expect.
Within a few days of the event they probably ended up in the garbage. Again, I couldn't justify spending money on a piece of paper that would be thrown in the garbage by most people. Also I was astonished at how much wedding invites actually cost. With a little effort from both me and my wedding party I made each individual invite and church program by hand. Total cost about $150 since I did pay to have them printed professionally and myself and wedding party assembled them.
Vehicles
Limos can make sense for a wedding party since they carry a lot of people but for us to rent a limo for our wedding party for the duration of time we needed (getting to church, waiting for ceremony then driving all over city for pictures) it was going to cost us thousands of dollars. Instead we found a few online discounts and rented two luxury SUV's which our fathers drove instead. They loved feeling like they were helping and it cost us less than $100 to rent two beautiful vehicles for the day which we could use at our convenience rather than being under a limo drivers time restraint.
Wedding can be as expensive or as cheap as you want them to be. If you're planning a wedding for yourself or helping a child, consider that there are often many ways to go about things and that it's the memories made that count, not how much money you spend!
What More Ways To Save?
Looking for more ways to save? Check out this amazing list of 101 Ways To Save Money On A Wedding.
How did you save on wedding costs?
Catherine is a first time momma to a rambunctious toddler. When she isn't soaking up all that motherhood has to offer, you can find her blogging over at Plunged in Debt where she chronicles her and her husbands journey out of debt. You can also follow her on Twitter.