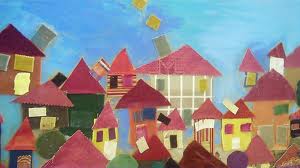 More and more parents are having to work harder to make that extra buck so not only is saving money a concern but also making sure the time you have to spend with your family is maximized. As a parent, I am constantly challenged to find interesting and cost-effective ways to have fun with the kids. This can be tough considering how technology makes it tempting to spend and use expensive outlets for fun. All is not lost though as there are still lots of ways to spend qulity time with the kids and save at the same time
Here are some year-round activities you can engage in that won't burn a hole in your pocket.
For the indoors:
1. You can build your kids' creativity and imagination by creating an art wall that can display artwork made all times of the year. First, allocate a part of the wall in your kids room for this. Mark it off by sticking letter cut-outs of thier names. You can make this from old magazines or use stencils to cut out handy art paper. Have your kids join the fun by having them sitck their names themselves. This can be educational too! Next, have them draw anything they want to display on the wall. It can be a drawing of your family, a cartoon character, a lesson in school, the ideas are limitless. And you can recycle these works of art to keep it fresh.
2. Have a rewards chart that you can make a household activity fun and a lesson at the same time. You can use old cardboard and markers to create a billboard that you can prop on the side, hang on the wall, or stick near your art center. Take a photo of each child and place it on the top and bottom or left and right side of the chart. Decorate the chart sides to match the personalities of each child. You can again use handy art material or old magazines. Every day, set aside times where you have them do easy chores like fixing their toys, or cleaning their room. Activities done successfully can be rewarded by a star or a picture tacked to the chart. At the end of the week you will have collected a number of markers. Set a limit and make this limit rewardable with a favorite snack or a favorite show or a favorite outdoor activity. Your kids learn how to be responsible, you have fun with them while doing chores, and you save money.
For the outdoors:
You can extend the rewards to the outside and make these money saving activities as well by choosing the places you visit.
1. You can have a picnic in the park on nice, sunny days. You have full control over what food you bring and the kids have access to a free playground.
2. You can visit the bookstore and take advantage of the kids section which allows free reading of kids books.
3. You can go to the local indoor pool for cold and overcast days and have a small swimming party.
4. And, if you really want to keep it simple, and multi-purpose, you can go grocery shopping and make it an adventure by having your kids help choose your grocery items. They will learn all about "good" food and how to budget as well. My kids love our Saturday afternoon grocery trips.
Remember that kids don't mind simple activities as long as they are able to spend fun, quality-time with you. So saving and being with your kids need not be opposing activities.
Make the most of the simple things offered out there and you can't go wrong!
What cheap and fun activities do you do with your kids?