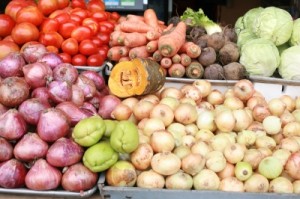 Other than housing, food is probably the second largest component in a family's budget. With food prices only rising, it is important to save as much money as possible without compromising the integrity of your family's healthy diet.
Eating well and cheap is possible but requires effort and planning. When just starting, expect to set aside at least an hour every week if you plan on getting serious about saving money on food for your family.
Here are some tips for how to save money on food and still eat well:
Meal plan. This is the easiest way to save money on food. With a meal plan, you can shop for the items you need for the whole week ensuring not only that you have all required ingredients, but also that you don't end up back in the grocery store. When you make multiple trips to the store unnecessary costs will likely occur.
Shop with a list! If you don't have a list you'll navigate the store aimlessly and put more things in your cart than required, as well miss items you may need.
Always shop the parameter first. Grocery stores are designed to have all the fresh and frozen items on the exterior of the store. Non-perishables are found on the interior. Fill you cart with the health items first then move to the interior aisles.
Shop late at night. Shopping late at night may mean you score daily mark-downs. At the end of a normal day (usually around 7-8pm) a lot of grocery stores will start marking down things like their meats in preparation for the next day. They need to make room for the fresh product and will start marking down older or near expired items. I have found this to be particularly true for meat and bread.
Coupon. I don't have a lot of advice to offer on couponing since there are many restrictions on coupon use here in Canada, but I know if done correctly, you'll be able to save a lot of money and even score free product.
Keep a price book. For items that you frequently buy, keep a log of the different grocery store prices. Compare frequently and watch for sales. This will help establish a budget for your weekly spending.
Freezer cook. Freezer cooking involves preparing multiple meals at once, freezing them and using them as required. I recently partook in a "Big Cook" where we prepared over 30 meals at once, froze them and had dinners for over a month. Most freezer cooking meals can adapted for crock pot or oven. Thaw the night before, put in slow cooker in the morning and have dinner cooked!
Take advantage of your farmer's market. Utilizing your local farmer's market is an easy way to save money on food and get a great product.
Buy seasonally and freeze. We have a large blueberry season where I live so in the summer we'll go to a local u-pick lot and pick berries to freeze. We eat some fresh then freeze them to use throughout the year for things like baking and smoothies. This is much cheaper than buying them frozen throughout the year.
With a little planning and preparation you'll be able to save money on groceries for your family and still eat well. It will soon become a routine and take no time at all.
How do you save money on food for your family?
Catherine is a first time momma to a rambunctious toddler. When she isn't soaking up all that motherhood has to offer, you can find her blogging over at Plunged in Debt where she chronicles her and her husbands journey out of debt. You can also follow her on Twitter.