If you have kids that are in middle school and high school, you likely feel the need (as I do) to teach them financial common sense.  The hope is that eventually they will be able to move out on their own and be financially responsible.  However, this lesson isn't quickly learned, and it requires a lot of parental oversight to do it right.  One tool that can help you is the Greenlight Card for kids.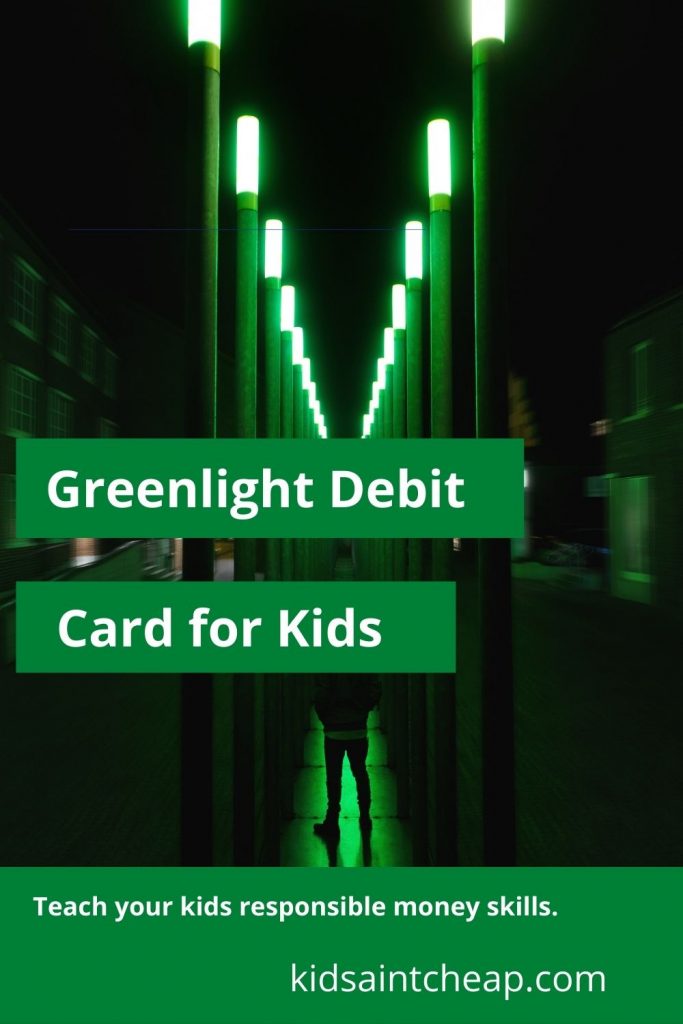 What Is the Greenlight Card for Kids?
The Greenlight Card for kids is a debit card your children can use, but it comes with some amazing parental controls so you can help guide and influence your children in their money habits.
Please note that if your kids have smartphones, there is an app they can use which will show them their balance and chores and allow them to make requests.  However, the Greenlight Card for Kids can be used if kids don't have smartphones, also.
Features of the Greenlight Card for Kids
This card makes allowances high tech.
Instantly Deposit Money
You can reward your children for chores well done by depositing money in their Greenlight Card.  Within the card app, children can set up different categories such as spend, save, and give.  They can also set up long-term goal categories such as saving for a car.
Parental Benefits
You can help your children manage their money with this helpful card.  You'll be given real time spending alerts.
Teach your children about interest by giving them interest payments on their savings.  You decide how much you want to give them.
In addition, you can enable the feature that allows them to withdraw money from the ATM and set how much they're allowed to withdraw.  Or, you can make withdrawing money off limits.
Features for Older Kids
If your teens have jobs, they can have their paycheck automatically deposited to the Greenlight Card for Kids.  The card can also be added to Apple Pay or Google Pay.
Safety Features
Each Greenlight Card is FDIC insured.  In addition, the card blocks your children from spending money for gambling or buying lottery tickets.  They also won't be able to spend money at places like massage parlors and horse or dog races, and they cannot get cashback from a purchase.  You'll get an alert if they try.
In addition, parents have the ability to turn the debit card on or off, should they need to.
How Much Does the Greenlight Card Cost?
The first month is free.  After that, you pay $4.99 for debit cards for up to five kids.  Should you need replacement cards, the first replacement cards are free.
Final Thoughts
The Greenlight Card for Kids offers a way to give your children financial independence while also providing parental oversight so you can help guide your children into financial growth.  This tool is an excellent way to exchange money between parents and kids while having features that let your children grow in responsibility as they grow up.


Read More
Handling Allowance with My Daughter
Games That Teach Kids About Money
Teach Them Young: 3 Key Tips to Help Your Kids Learn about Money
Melissa is a writer and virtual assistant. She earned her Master's from Southern Illinois University, and her Bachelor's in English from the University of Michigan. When she's not working, you can find her homeschooling her kids, reading a good book, or cooking. She resides in Arizona where she dislikes the summer heat but loves the natural beauty of the area.