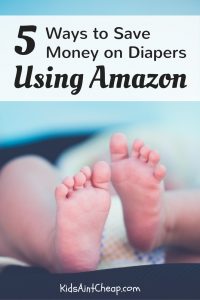 Every parent knows having a child drastically changes your finances. One of the largest expenses to enter the picture is diapers. It's a fixed expense for the first three years of a child's life, right? So, how can we save money on diapers?
The list is long. I wrote a post about this earlier called "How to Save Money on Diapers." That would be a good place to head once you're done here.
Since there was more to say after writing that first article, I decided to write a follow-up post specifically talking about Amazon.
5 Ways to Save Money on Diapers Using Amazon
I'm not saying you should only shop at Amazon for your diapers. I actually buy mostly off brand diapers in bulk at places like Target or Costco. That's just how I do my shopping.
If you're a pretty active online shopper looking to save money on diapers, then give these tips a try.
1. Subscribe & Save
No Prime membership required. All you do is sign up for Amazon's Subscribe & Save program and choose from their selection of products. If there is something you need regularly, like paper towels or diapers, then subscribe. They'll show up on your doorstep on the selected date saving you up to 15% off each time.
2. CamelCamelCamel.com
Want to know when diapers are at their lowest market price? Head over to CamelCamelCamel.com to find out. Enter the name of the product and look at its track record of the last year. That'll help you determine when it's best to shop next.
3. Price Tracker App
Do you prefer shopping on your mobile device? Save money on diapers by using the Price Tracker App. If you have Amazon's store app already on your phone, then you have the Price Check feature within that app. That is a second method you could use to save money on your phone.
4. SnagShout.com
Find deep discounts on Amazon products on SnagShout.com. I first described SnagShout as a great resource when you're searching for frugal Christmas gifts (read the full article here). But SnagShout can also be great for everyday items that aren't quite as exciting but cost just as much green stuff in your wallet.
A.K.A. diapers.
Up until October 2016, SnagShout users were required to leave a review on Amazon in exchange for receiving the deep discounts on products. However, the policy was revised to reflect Amazon's choice to make it illegal to require anyone to leave a review.
So, now you simply need to check out SnagShout's merchandise, find the kids & baby section and see if there are any cloth diapers or nursing covers or other gems up for grabs.
5. Register for an Amazon baby registry.
If you're having a baby shower, then consider registering on Amazon. Some perks include: free 90-day returns, millions of products from which to choose, 15% off Completion Discount on eligible items for Prime members.
Plus, people have the option of giving Amazon gift cards. Combine those with the 15% off through Subscribe & Save and you'll get a bunch of diapers for not a bunch of money.
Have you ever tried to save money on diapers online? What's one thing that worked for you?
Image Credit: Janko Ferlic (UnSplash)