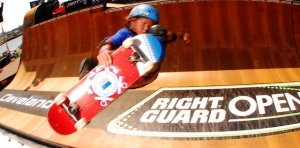 Some parents dread the day that their little boy or girl asks for a skateboard or leaves the house in their older sibling's BMX. There are some sports that some – or many – parents aren't so keen to encourage, but whether our little monkeys decide to be a ballet dancer or a parkour runner, we have to be supportive in every way we can.
Skateboarding has become extremely popular in the last few decades, so it would be no surprise for our little ones to show an interest even from a young age. Off-shoot sports such as longboarding and mountain-boarding are also growing in popularity. So if your son or daughter decides that they want to give an extreme sport a go, and you're fully supportive of it, here are some safety tips to make sure they stay as safe as possible.
Safety Gear Should be Mandatory
It should always be mandatory for kids to wear safety gear when they are taking part in sports such as skateboarding or mountain biking. This should be encouraged from the beginning, with serious discussions about the consequences that they could experience if they were not to follow safety rules. Safety gear should include a helmet, safety pads (elbows, knees and wrists), the right skateboard shoes and mouth guards for beginners. Padded jackets are also available if you worry about your child falling over. 
Take Part in Skateboarding Too
The best way to encourage safety in sport is to get involved too and show your little ones how it's done. Show them that you take an interest in what they love to do by taking part and you can learn the sport together. You can  also lead by example and show them the importance of wearing safety gear.
Buy from Trusted Brands
If you are shopping around for skateboards and safety gear, make sure you research the different brands out there. Price isn't everything but some of the better brands have been around for many years, and are trusted by many extreme sports stars. Brands such as Santa Cruz, Sk8 Mafia, Enuff, Bullet, Baker Skateboards, Element, Flip, Plan B, Real Skateboards, and Heroin Skateboards are all available from reputable retailers such as Skatehut.
Know Where Your Child Is Riding
This is extremely important. If your child is old enough to go riding with his friends, it's not always easy to keep a track of exactly where he or she is at all times. Research the skate parks and bike trails in your local area and make sure you check out each of these spots before you allow your teenager to ride there. Don't be afraid to set rules about where he/she can go and always tell your child to keep their skateboarding within designated skate parks. To locate the nearest skate parks anywhere in the world, use this locator from Thrasher Magazine.