Children love to create gifts that they can give to loved ones. This is their heartfelt way of showing those who love them most that they love them back. We must keep in mind that not all crafts our kids create will look perfect but that is what makes them so beautiful!
Here are some fun and creative crafts that will be simple to make and your friends and family will be delighted to receive. I also believe that these crafts are so simple that even an uncrafty mom such as myself, can happily join in the fun.
Handprint Wreath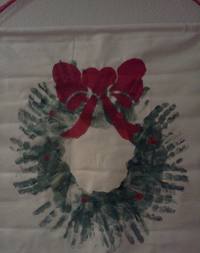 This is a craft that each of the boys made as at preschool last year and I absolutely cherish it! It can be a little messy but if you are organized about it this (like their fabulous teachers are) it shouldn't be too difficult to do with preschool age children or older. Of course, you can do this with toddlers if they will cooperate but my experience in getting the boys to make hand prints when they were that age was not great.
What you need:
Fabric — A light colored one like the one pictured above will work best.
Thin dowel
Green and red paint
Sponge paint brush and disposable container
Large bow Stamp
Ribbon
You can make these as small or as large as you would like. It's totally up to you. So cut the fabric if you need to then either sew – or my favorite is to use fabric tape – to make an opening that the small dowel can slide through.
Put some green paint into a container then take the sponge brush and paint your child's hand with it.
Instruct your child to spread out their fingers then push their hand gently onto the cloth. Have them lift their hand straight up. You may have to help them with one hand while holding the cloth with the other.
Paint their cute little hand again and repeat Step #3 several times. You'll want to turn the cloth so you can make a circle of green hand prints. You can overlap a little and remember — it doesn't have to be perfect!
Let that dry. Then either you or your child can dip your finger in red paint and make round red berries.
Take the bow stamp and dip it into the paint and stamp the top of the wreath with the bow.
After it dries slide the cloth onto the dowel.
Cut a long piece of ribbon and tie it to each end ot the dowel, so this beautiful piece of art can be display each year!
Painted Ornaments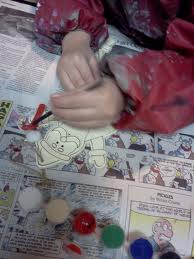 This is a SUPER simple craft. The only thing you'll have to do it clean up a little. The kiddos do all the hard work and they love every minute of it!
What you'll need:
Paintable ornaments that can be found at any craft store. (They are very reasonably priced especially if you catch them on sale and don't forget to check your Sunday paper for good coupons!)
Paint and paint brush– watercolors wouldn't be great to use but the thicker paints work.
Newspaper
Spread out newspaper all over your child's work space.
Open the paints, get a small cup of water, a paper towel and let the kids have at it. You may of offer instruction if you wish or you can have a sample painted so they have an idea of that colors they can use.
Not crazy about letting your kids have paint? Markers will work really well too and are less messy. I chose paints though because my boys just get so excited when they can use them.
 Bead Wreath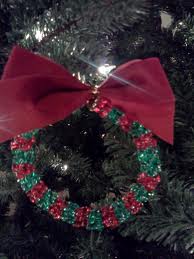 Do you remember making these as a kid? You might even have some of your old ones on your tree or at your parent's house. This is very simple and not messy at all — unless of course someone spills beads all over the floor 🙂
What you'll need:
Beads (or buttons if you prefer)– any color you like will work just fine.
floral wire 16-20mm
Ribbon
Wire cutters
Bend the end of the wire.
String the beads onto the floral wire.
After the wreath is the desired size bend the end of the wire into the other end — cut if needed.
Tie a bow on top of wreath to cover wire and attach string or yarn to the top so it can hang on a tree.
The boys and I also shaped these to look like candy canes and hung them on the tree. So cute!!!
For more Christmas crafts check out my post from last year Super Simple Christmas Crafts for Kids.
 Do you make holiday crafts with your kids? Any other craft ideas to share?