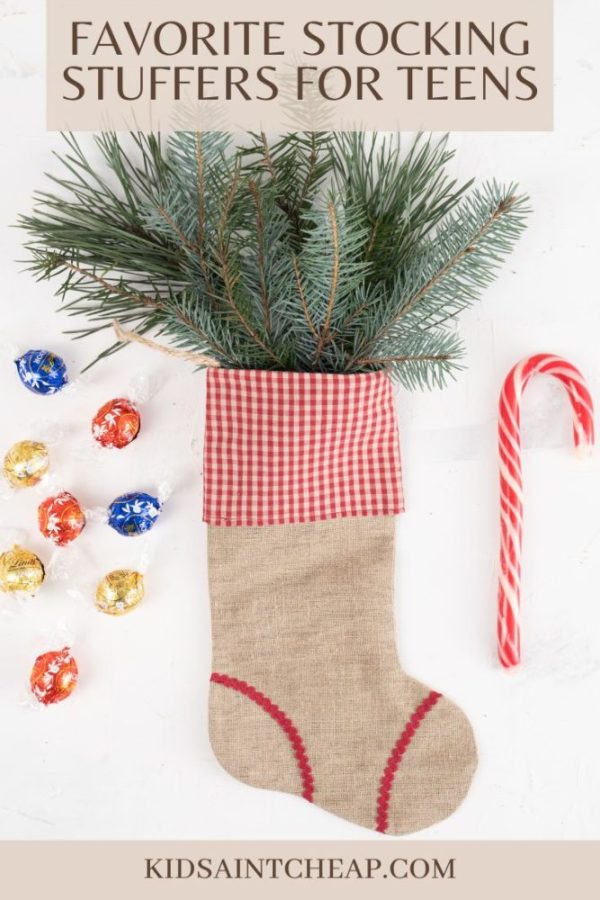 After you buy Christmas presents for your kids, you have one item left to tackle—the stockings. Unfortunately, I find stocking stuffers can be challenging to buy, and if you're not careful, they can be more expensive than the gifts under the tree. Still, stockings are a nice bonus and one of my kids' favorite parts of Christmas. Over the years, we've acquired several favorite stocking stuffers for teens.
A Hint for Affordable Stocking Stuffers
Every parent's budget differs, but we've found that we prefer smaller stockings to stuff. For a few years, we had giant stockings, and filling them was expensive! So, we got rid of those stockings and picked smaller ones (luckily, while the kids were still little, so they didn't notice). Now, we can fill the stockings more affordably, and they also overflow with gifts (since they're smaller), which the kids get excited about.
Favorite Stocking Stuffers for Teens
We try to include both necessary and fun items in their stockings.
Fun Stocking Stuffers
Over the years, the kids have enjoyed these stocking stuffers:
Compact Games
We like to play games in our family, so their stockings often include a smaller game we can play as a family. Card games like Uno, Sushi Go, and Five Crowns have been hits.  We've also included dice games like Tenzi and Yahtzee to Go.
Lip Balm
My kids like flavored lip balms such as fruit flavored or Christmas flavors like candy cane, vanilla, or mint chocolate. Their favorite brand is Burt's Bees.
Sweet Treats
Even though my teens now have money to buy their treats, they love getting candy in their stockings, especially milk chocolate bars. They also enjoy receiving hot chocolate packets so that they can enjoy hot chocolate on Christmas morning.
Gift Cards
The older teens get, the more they enjoy gift cards to buy their own items. My kids' favorite gift cards are from Amazon, Starbucks, and local fast-food joints.
Art Supplies
My artist in the family enjoys receiving art supplies such as paints, paint brushes, watercolor pencils, colored pencils, and other art items.
More Practical Stocking Stuffers
In addition to the fun gifts, we also like to fill the stocking with some practical, necessary items.
Socks
Every year I give my kids some socks in their stockings. These bulk up the stockings, and everyone needs socks throughout the year.
Batteries
If the kids are getting any presents that require batteries, I put the batteries they need in their stockings. Then they can use the battery-operated gifts they received on Christmas day without making a separate trip to the store.
Final Thoughts
Christmas stockings in our family are not an afterthought. Instead, they're a gift as important as the wrapped presents under the tree. These are our favorite stocking stuffers for teens, and our kids love receiving some variation of them each year.
Read More
What to Do When You Are Overspending at Christmas
Favorite Family Traditions Modernized
5 Ways to Buy Cheap Christmas Gifts for Your Kids
Melissa is a writer and virtual assistant. She earned her Master's from Southern Illinois University, and her Bachelor's in English from the University of Michigan. When she's not working, you can find her homeschooling her kids, reading a good book, or cooking. She resides in Arizona where she dislikes the summer heat but loves the natural beauty of the area.