Most American children are currently home from school and sheltering in place as ordered by their governors.  I've seen different advice flying across the Internet about how to handle this situation.  Some give a schedule to follow.  Others say this is a stressful time for kids, so let them relax and just be.  Of course, you as the parent ultimately choose what is best for your child.  But there are some things to consider when asking yourself, "Should you keep your child on a schedule when school is out?"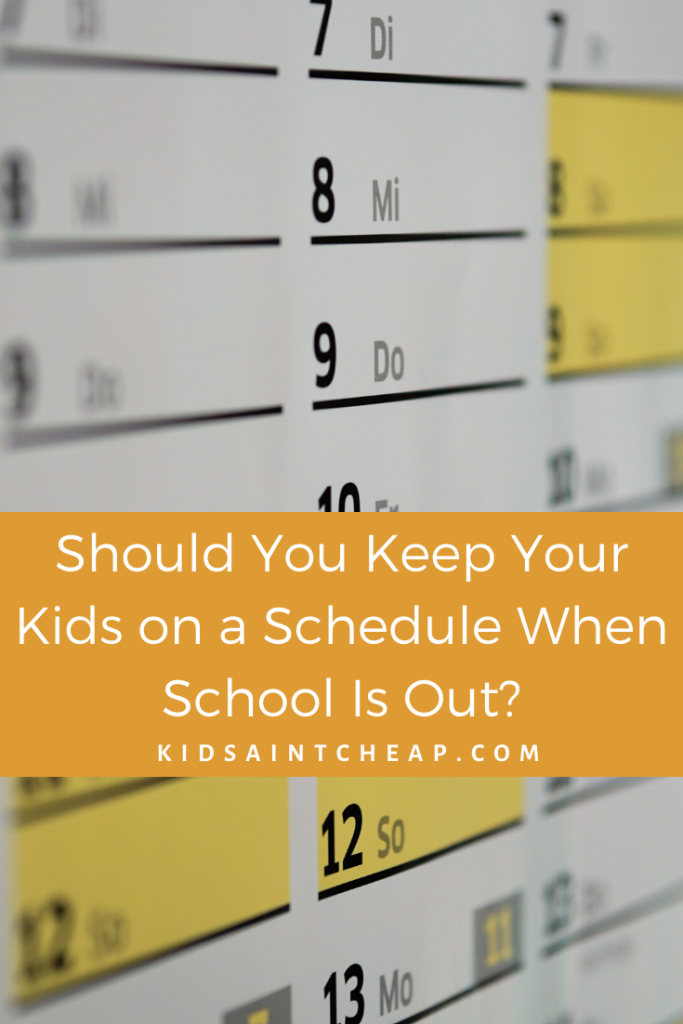 Why You Should Have a Schedule
My kids, since they were little, have always done better when they had a schedule.  Now, I'm not saying we had a strict schedule, i.e. get up at 7, eat breakfast at 7:15, do the dishes at 7:30.  Honestly, such a regimented, precise schedule would drive me batty.
However, think of your own schedule.  You likely have a daily rhythm.  You get up at a certain time, you may then work out, then drink your coffee, then make breakfast, etc.  Those daily rhythms give us a sense of normalcy, something all of us desperately need now.
When asking if you should keep your child on a schedule when school is out, keep in mind that when they're in school, kids have a schedule.  They know what to expect.  It makes them feel secure.  That is why I'd suggest having a schedule for your kids now, during these precarious times.  We could all benefit from feeling that at least one part of life is still normal.
How to Create a Schedule
In my experience, having the parent create the schedule doesn't work well.  Instead, ask for input from your kids, if they're old enough.  I would advise against making the schedule too strict.  For instance, when my kids first started staying home in March, my youngest, who is 10, went to work making a fairly strict schedule.  We followed it for about a week, but we all felt confined by it.
Now, in the four weeks that we've been home, we've relaxed the schedule a bit.  The kids still get up at the same time they used to when they went to school, so our morning routine is largely the same.  Then, at the time that we would normally take the kids to school, we start school work.  We follow a general routine of which order we do subjects, and that just makes life easier.  We don't have to take the time to decide what we want to do next.
Allow More Free Time Then Normal
Even though a schedule can help the rhythms of your day, make sure to build in more free time.  We are living in a very stressful time.  That takes a toll on all of us, including kids.
I prefer to have the kids' schoolwork completely done by lunchtime.  Then we have the afternoon to pursue other interests.  I do let my kids watch TV and play video games, but there is a time limit for these.  I've been surprised to find the kids playing more together and spending more time creating art and performing dance routines together.
Final Thoughts
We're living in an odd time in history, the likes of which our country hasn't seen in 100 years.  My advice, when considering should you keep your kids on a schedule when school is out is yes, keep a loose schedule.  But also allow plenty of free time.
Melissa is a writer and virtual assistant. She earned her Master's from Southern Illinois University, and her Bachelor's in English from the University of Michigan. When she's not working, you can find her homeschooling her kids, reading a good book, or cooking. She resides in Arizona where she dislikes the summer heat but loves the natural beauty of the area.