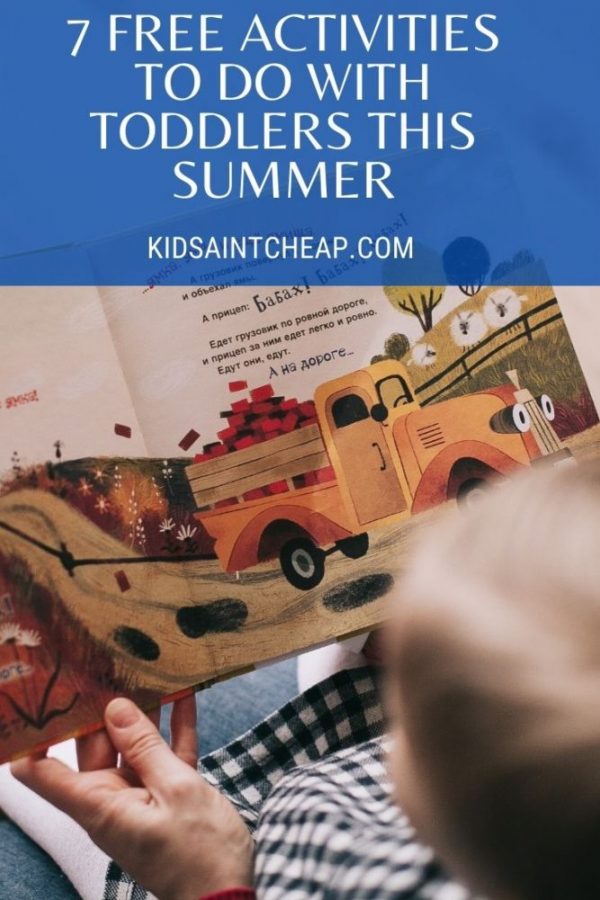 When my kids were toddlers, we tried to do something outside the house every day, especially on the weekend. Staying inside made me stir-crazy, and I wanted the toddlers to burn off some energy outdoors. Summertime was my favorite time because there are so many free activities to do with toddlers.
7 Free Activities to Do with Toddlers
If you don't want to spend a lot of money keeping your toddler entertained, try these free activities that toddlers love.
Visit Bookstores
Our bookstore had a large wooden train frame and several different toy trains. My son LOVED the train table. He would play for an hour at the table, and he enjoyed watching and interacting with other kids who came to play there. Parents can sit nearby and browse books while their kids play.
If your book store doesn't have something like this, I still would take the toddlers to a bookstore, sit in a chair, and read them a few board books.
Utilize the Library
The library was one of my and my kids' favorite places to go because there's so much for toddlers to do:
Attend Storytime
We were regulars at storytime. Our library had storytime four times a week, and we showed up for many weekly sessions. They even had bilingual story time in Spanish. Afterward, the librarians usually had a craft for the kids to do. These events were a big hit with all three of my kids, and today they are voracious readers, which I attribute partially to all of the storytimes they attended.
Attend Enrichment Events
Likewise, many libraries have enrichment events you can check out. Our library has had magic shows, wild animal presentations, theater presentations, puppet shows, and many more activities. Check out your local library's calendar and surrounding areas to find these events.
Borrow Busy Bags/Games
Libraries aren't just for reading! In the kids' area, many libraries have games and busy bags that their youngest patrons can check out. We always utilized these; my kids loved having new activities to do at home.
Museum Passes
At some libraries, you can check out museum passes, which allow you and your child to get into various museums around town for free! You can utilize these a few times a year to expand the places you have access to for free.
Attend Free Community Events
If you live in a larger city, there may be free community events during the summer. We lived in the Chicago suburbs when my kids were little, and every Saturday, my husband took the kids downtown to an event that featured singing, dancing, and games.
You may also find outdoor concerts, plays, and festivals. Fourth of July parades are usually a hit with the toddler crowd, too.
Swim
If you have a lake or public pool nearby, take your kids swimming. It's never too early to learn to swim, and most toddlers love playing in the water and with the sand on the shore.
Final Thoughts
Entertaining your little one and getting her out and about in the community doesn't have to cost a lot. These are just a few of the many free activities to do with toddlers this summer.
Read More
Encourage Toddler Play without Breaking the Bank
Interesting Ways to Keep Your Toddler Busy
Cheap, Fun Ways to Stay Cool This Summer
P.s. I found some great DIY playroom ideas on savedbythecents.com, recommend you check them out => here.
Melissa is a writer and virtual assistant. She earned her Master's from Southern Illinois University, and her Bachelor's in English from the University of Michigan. When she's not working, you can find her homeschooling her kids, reading a good book, or cooking. She resides in Arizona where she dislikes the summer heat but loves the natural beauty of the area.