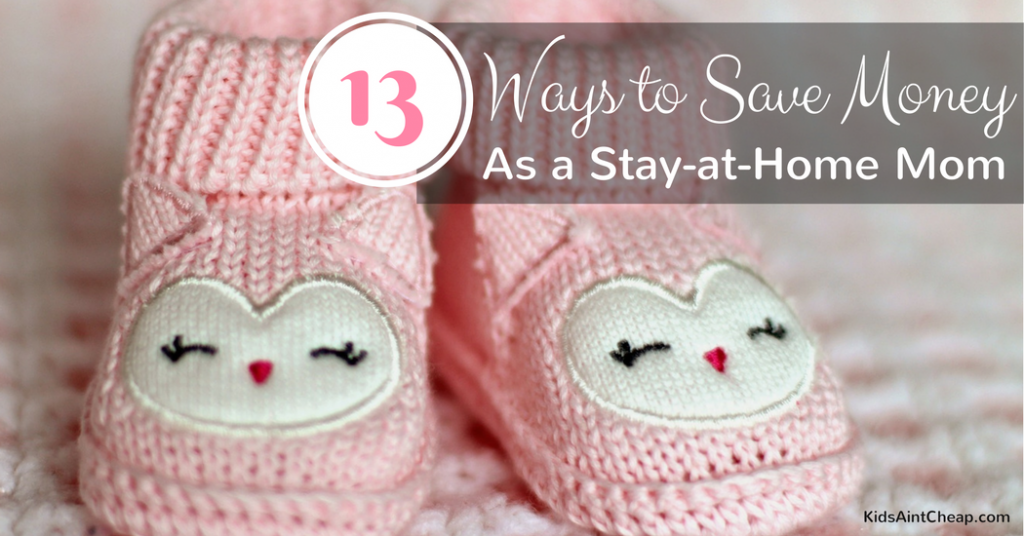 When I became a stay-at-home mom in 2014, I felt a pang of guilt for no longer contributing financially to the family. Then, as the weeks of staying home progressed, I discovered something incredible. I had a new superpower. I was so much better at saving money! Not to say I was perfect, but by simply spending the lion's share of my days caring for little ones AT HOME, I saved loads. Let's take a closer look at some of those practical ways for stay-at-home moms to save money.
13 Ways for Stay-at-Home Moms to Save Money
Since a mom is involved in so many transactions throughout the week, I thought it'd be best to look through these money-saving tips in categories.
Kids and Babies
Don't buy all new. The minute you become pregnant, you are inundated with offers for bright and shiny things. Everyone will tell you how to keep your baby out of peril. Each piece of advice will be different. Your greatest weapons are:
Research may show you that buying a car seat new is a wise investment. It may reveal used clothes make a lot of sense for growing babies. Common sense may show you that the French chandelier in your friend's baby's nursery doesn't have to show up in yours, too.
Find out if you qualify for a free breast pump. The government may give you a free breast pump or provide you with a reimbursement. I highly recommend checking it out.
Be strategic about the professional photo sessions. Social media creates so much pressure for parents to create "perfect moments" during each chapter of their children's lives. Don't get swept away in expensive photo sessions unless you've planned for them and have the budget available.
Food
Load digital coupons. So many stores offer digital coupons. They're handy and often apply to checkout automatically.
Make your own baby food. I am not a DIY maven. However, when I started researching the health benefits of making homemade baby food (and that getting started wasn't that hard), I gave it a go.
Once your baby is ready for solids, try mashing a banana or pureeing some superfoods. Freeze them in an ice cube tray for long-term!
Consolidate your trips. Try as I might, I always end up overspending or impulsing buy at the grocery store. Limiting my trips is one way I combat that problem. Another is by ordering my groceries online via ClickList or Shipt. That way, I'm not tempted to overspend and save so much time, too.
House
Pay extra on your mortgage. It's amazing how much money people can save on their mortgage by paying an extra $100 per month. For example, if you had a 30-year mortgage of $165,000 at 4.5 percent, you'd pay an estimated $135,971 in INTEREST. By paying $100 extra each month over those 30 years, you'd only pay $105,547 in interest. That's over $30,000 in savings!
Try BankRate's free amortization calculator here.
Unplug. You can save a lot of money over time on your utilities simply by unplugging your appliances and shutting off your lights. If the weather is nice, shut off the thermostat and throw open some windows.
Reduce extra payments like your phone bill, cable, entertainment subscriptions. What can you trim back in your budget? Can you drop cable? Can you renegotiate your phone bill?
Build an emergency fund. Having money set aside for the unexpected will save so much money on emergency swipes of the credit card.
Selling and Earning
Sell your used goods. Today it's easier than ever to sell your household goods to others. Check out these seven apps that'll help you turn your secondhand stuff into cash.
Earn gift cards to cover Christmas. Swagbucks is one of the most popular sites for earning gift cards. You can watch videos, conduct searches, shop online, or do surveys to earn gift cards for places like PayPal, Amazon, and Target. You won't earn a living, but it's a great way to cover birthday presents, weddings, or Christmas.
Start a side gig. If you're a stay-at-home mom looking for a way to make serious money from home, please check out my recent post "14 Profitable Stay-at-Home Mom Jobs Online (That Are Worth Your Time)." It outlines several cash-generating ideas from remote jobs to becoming an entrepreneur.
Ways for Stay-at-Home Moms to Save Money – Part II
I've been piling up resources and tips like this for the last three years after my own debt-free journey with my husband. We went from broke and clueless to budgeting and conquering our financial goals – like me becoming a stay-at-home mom – with the steps you've read in this article.
If you dream of the day you can stay home with your kids but could use a roadmap like I did, check out "The Stay-at-Home Mom Blueprint." This eBook tells my story of beating debt and beating the odds to stay home when we only had $2,000 to live on each month.
It also includes 150 strategies to chop your debt, save money, earn from home, and afford your dream of becoming a SAHM.
If you liked this list of ways for stay-at-home moms to save money, "The Stay-at-Home Mom Blueprint" is this plus steroids.
Your Turn: Share with us a few ways for stay-at-home moms to save money in the comments below!
This post contains affiliate links.
Are you a stay-at-home mom? Check out these bonus resources created just for you!
Are you a stay-at-home mom? Make sure you bookmark or pin some of these resources for later!