Borrowing money is as commonplace in today's economy as choosing your next meal. Many use it in daily life – whether it's choosing a vehicle, a college, or a purse. But is it healthy? Also, do loans for stay-at-home moms even exist? Let's take a look at your options in today's article.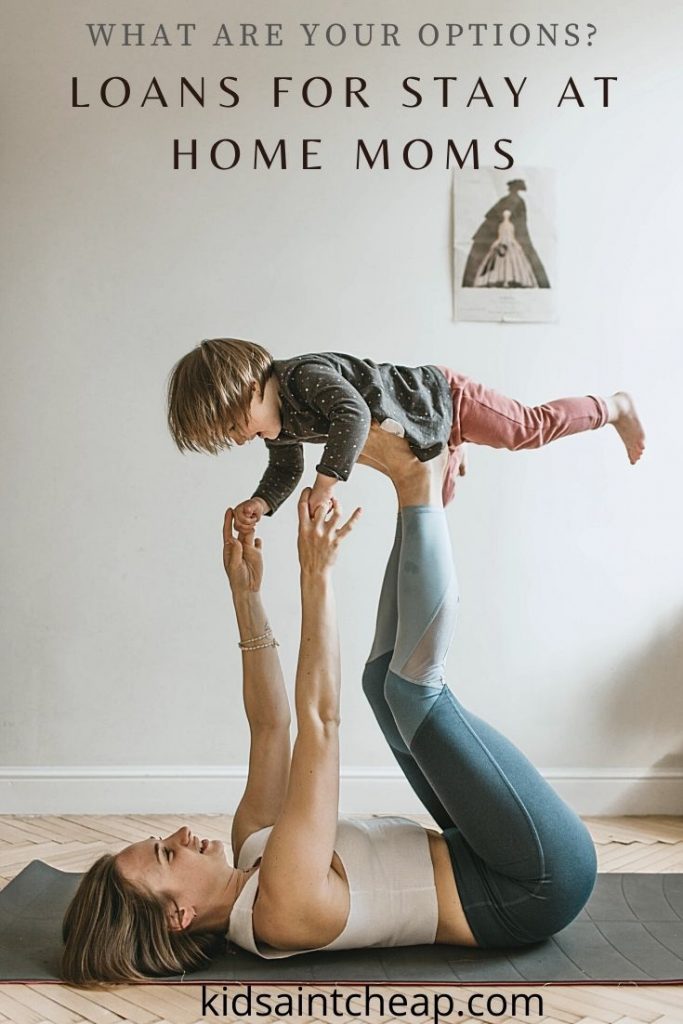 Loans for Stay-at-Home Moms – a Breakdown of Your Options
I used debt regularly the moment I reached adulthood. My entire effort was to ultimately raise my credit score.
However, my focus on debt became one of my biggest stumbling blocks for becoming a stay-at-home mom, years later. I honestly didn't think I'd ever make it because debt was holding me back.
I'm not saying you can't ever use debt, but I want you to know what my experience taught me. Also, as a financial coach since 2013, I've seen the underbelly of loans and debt.
So let's take a look at when it might make sense to borrow money and when it might not.
Can Stay-at-Home Moms Borrow Money?
It's a valid question. If your income is $0, then what creditor will believe that you'll pay them back? Here are a few options (none of which are guaranteed):
Consider Household Income
Find a lender who will consider your household income. Even with my decent credit score, lenders weren't remotely interested in loaning me the money for our first house until they saw my husband's full-time income. If you're a stay-at-home mom, then you're already living off someone else's paycheck – likely your spouse's. It's best to go forward with any major financial decisions – particularly debt – together.
0% Interest Cards
Apply for a credit card with 0% interest. Try to find one that promises no interest for at least 12 months or more and read the fine print!  It's especially important to look at what the transfer fee will be if you're transferring old debt to pay off.  (Typically, transfer fees are 3 to 5% of the total amount you transfer to the 0% interest card.)  You will also want to consider what the interest rate will be after the introductory 0% phase in case you aren't able to pay it off within that time.
You will still need to declare your household income to be approved, but this will likely give you a lengthier time to repay a debt (i.e. medical bill or personal debt).
Collateral
Ask about collateral. If your name is on something of value (i.e. a vehicle), you may be able to use it for a loan.  However, be forewarned that if you're not able to keep up with the monthly payments, you can lose the item you put up for collateral, so in general, choose this option as a last resort.
Most importantly, make a clear plan for your budget to pay this debt off as quickly as possible! The average household has $16,748 in credit card debt. So many families let that final step slide and become buried. That doesn't have to be you!
When Loans for Stay-at-Home Moms Might Make Sense
There are some instances where loans for stay-at-home moms make sense.
Mortgages
If you wish to buy a home but don't have six figures in cash at the moment, that's understandable. Taking out a mortgage does include its share of benefits:
Accrued equity
Resale value
Options for shorter and more accelerated payoff plans (saving thousands in interest)
Medical Payment Plans
Perhaps you're an at-home parent facing a medical procedure that's more than you have available. The billing company often provides structured payment plans (often interest free) allowing you to pay off that debt over time.
CAR LOANS
Being a mom can be demanding, hectic, and exhausting. This is why you might want to consider a car loan to help facilitate your daily activities like shopping, driving the kids to school, or even in the case of medical emergencies. 
Before taking out a loan, you can use a car loan calculator to get an overview of different car loan providers; their terms and how much you will need to repay, and opt for the one that works for you. 
Debt Alternatives for Stay-at-Home Moms
While accumulating debt makes sense in some cases, often avoiding debt is the best thing to do.  As my husband and I began our journey out of debt, we had to find new alternatives to paying for every purchase. Here are a few primary habits we still practice today:
Adjust Your Standard of Living
If you're used to buying nicer decor, vehicles, clothing, and vacations and placing them all on credit, then it's likely snipping the card won't be the only important step. You may need to reduce your clothing budget, take a staycation, or live with your current decor longer than normal.
Create a Sinking Fund
This was a big one for us. Sure, it's easy to say we'll pay for things in cash, but putting in the actual work is difficult. For example, one day, you're going to open your refrigerator and it's going to feel like warm, sunny day instead of the icy Arctic. That's an expensive fix, but also an inevitable one. By placing chunks of money into a savings account every month, you're preparing for the cost of keeping that food cold again one day.
Build an Emergency Fund
Contrary to the sinking fund, the emergency fund is there for the big, ugly, unexpected moments. Your transmission may decide to self-destruct. Tragedy may strike an out-of-town friend or relative. You'll want the funds ready to transport you quickly to your destination. An emergency fund has prevented my husband and me from going into debt, time and time AND TIME again.
A good way to start building your emergency fund is, frankly, to get a job.  If you like this idea, but don't know where to get started, the savvycouple has a good listing of legitimate jobs for stay at home moms.
Your Takeaway
Knowing your options is one of your most powerful tools in your financial toolbox.
If you're more inclined to choose a debt-free route for your family's finances in the future but aren't sure where to begin, Laura Harris has created a financial roadmap for moms just for that reason. "The Stay-at-Home Mom Blueprint" is an eBook designed to help anyone seeking the steps to financial freedom to spend more time with their family.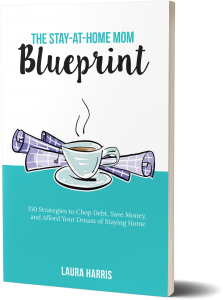 What's included?
150 strategies to slice debt, save money, communicate in healthy ways with your spouse, sell your household goods, earn a side income from home, and successfully develop a budget.
Harris' story of overcoming debt and sloppy spending to become debt-free and achieve her dream of staying home.
Dozens of additional resources to equip you on your financial journey.
Ready to take a closer look at "The Stay-at-Home Mom Blueprint"? Click here for more info.
Join the Discussion: Do you believe debt is a useful tool to be used in daily life or as infrequently as possible? Do you land somewhere in the middle? Share your perspective in the comments below!
This post contains affiliate links.
Read More
Looking for more stay-at-home mom resources? We've got you covered!
Or you can also check out this credit score tool online:
Melissa is a writer and virtual assistant. She earned her Master's from Southern Illinois University, and her Bachelor's in English from the University of Michigan. When she's not working, you can find her homeschooling her kids, reading a good book, or cooking. She resides in Arizona where she dislikes the summer heat but loves the natural beauty of the area.