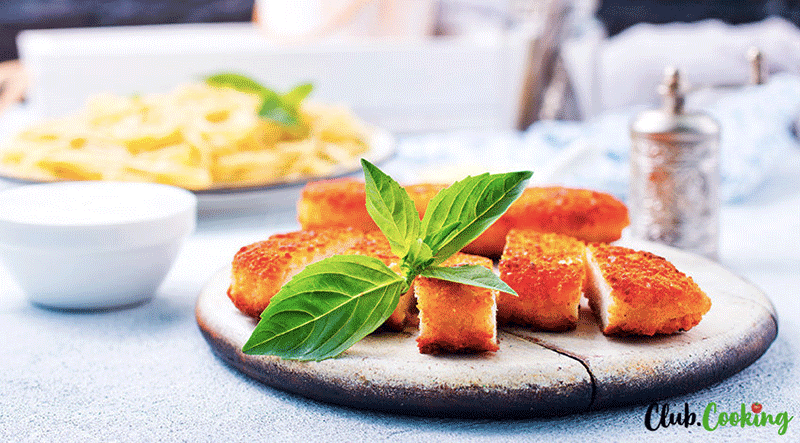 As we are getting older, our eating habits are changing. But perhaps all of you remember something special, unforgettable from your childhood, right? I'm happy to share with you a marvelous recipe that my mom used to cook when I was the age of a kinder garden goer. This is air fryer chicken breast, that will definitely satisfy every taste! No extra calories, by the way! I promise, you'll get your meal with crispy crust, but soft and at the same time juicy and rich in flavor inside. Don't try to resist this temptation and, of course, don't feel shame for calories! This chicken is a must have for those, who keep to a strict diet and can allow almost nothing! So, relax and enjoy!
Chicken breast is cooked in no time, doesn't need any efforts and is absolutely easily prepared. And all this is my top priority as yours, I guess! And the chicken isn't supposed to dry out at all! Certainly, you are free to go out and shop for your favorite fried or roasted chicken or easier call for a take away, but why to order something doubtful and not so healthy instead of deriving pleasure from cooking home-made meal without leaving the comfort of your own home? Very-very little oil will devoid you from frozen fat inside your stove and save your shape, allowing to stay fit almost forever! 200 calories per serving! Just incredible! You have a lot to choose from: traditional way with flour, egg and breadcrumbs coating or, for example, just oil and breadcrumbs! My version is the second variant.
Flavoring and crumbing are really of great importance! Don't forget it! They will strengthen the whole impression!
You will find your chicken to be comfortably soft and juicy, carrying out taste and aromas of other ingredients such as herbs and spices. This chicken, coated in crumbs, is a universal dished, served in a great variety of ways. One of them is a top of any salad, which also performs a kind of diet meals or just as a separate dish seasoned with sauce. And you know sauces are great in number! Choose any and be sure it will go well! It is a huge hit with the kids as well.
It takes no time to cook, but serves a weeknight dish! The first to do is to slice chicken breasts in halves lengthwise to get ½ inch thick cutlets. Then dip them in oil (or better brush) and coat with crumbs mixture. So, in general you'll spend 6-7 minutes to cook.
As I've promised the recipe is so obvious, that you can do away with it even if you've never been an enthusiastic cook! Chicken breast looks inviting and tastes delicious! It's sure to satisfy any hearty eater!
Ingredients
1 lb boneless skinless chicken breasts
1 tablespoon olive oil
Breading
¼ cup bread crumps
½ teaspoon salt
¼ teaspoon black pepper
½ teaspoon paprika
1/8 teaspoon garlic powder
1/8 teaspoon onion powder
1/16 teaspoon cayenne pepper
Now, here are only 6 steps to follow!
1. Heat air fryer to 390° F/200º C
2. Slice chicken halves so that you get ½ inch thick cutlets. Two pieces from one breast
3. Grease each slice with oil lightly (both sides)
4. Mix the breading ingredients. Be sure both sides are thoroughly coated when dredging
5. Shake off excess breading and place two chicken breasts halves at a time in the air fryer
6. Turn the slices upside down after 4 minutes, and then leave for two more minutes. Check the readiness of the dish by cutting the slice in two parts. Remember, cook time depends on the slice size!
Features
Preparation time – 15 min
Cook time – 10 min
Ready time – 25 min
Servings – 4
Cuisine – American
Nutrition facts
Calories – 189
Protein – 25
Fat – 6
Carbohydrates – 5
Cholesterol – 72
Sodium – 472