Christmas is my personal favorite time of the year.  And there is nothing like a Filipino Christmas.  Let me try to illustrate what the season is like here in the Philippines.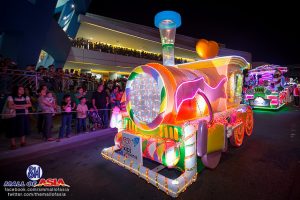 Trivia to 'Set the Scene':
The Philippines has the longest Christmas celebration in the world.  As soon as September hits (known here as the start of the 'ber months'), you can already smell the season of giving.
Philippine fiestas are legendary. This no-holds barred party is a reason for the poor man to celebrate, eat, drink, and be merry, all wrapped up together with song and religion.
Filipinos LOVE TO EAT. Ask anyone who has visited the country and they will tell you that a staple in any Filipinos welcome package is a large meal. Many large meals.
Filipinos LOVE TO SING!  Think Charice, Lea Salonga, Jamie Rivera, Monique Wilson, Billy Crawford, among some of the artists who have gone on to world fame.  You will find a sing-along machine (karaoke) around every corner. Seriously.
Filipinos have always been family-centered- a big factor in the strong yet gentle, kind, giving, and hospitable nature the Filipino is known for. Case in point, Manny Pacquiao.
These are all facts you need to know to understand what a Filipino Christmas is like.
Fun, Fiesta, and Family
Philippine history is peppered with influence from Spain and the United States. After 300 years of Spanish colonization, Christianity was firmly rooted in Philippine soil mixing with an already strong belief in a higher being.  The 50 or so years of American rule in the 19th-20th century left lasting imprints that are clear in our language, style of dress, educational system, and some traditional symbols.
Christmas Ambiance
You will definitely see a mix of the Western and the traditional in the Philippines.  You will see Christmas trees, of varying heights and color. Yes, color. I don't know about the US but in Manila we have pink trees, blue trees, white trees, silver tress, and the typical green tree.  This will decorated with lights and ornaments as is the Western tradition and is topped alternatively with a lit star or an angel.
In addition to the Christmas tree, we have beautiful lit lanterns known as 'parols'.  These are typically made of capiz shell, white or of varying color, with lights inside.  A parol of some size and design is usually found hanging outside the house.  This lantern symbolizes the star the three kings followed to the barn where the baby Jesus was born.  So, in addition to the Christmas tree and the lantern, you will often see a nativity, or statues of Mary, Joseph, and the baby Jesus, as home decor as well during Christmas.
You can find instructions on making one of these yourself on our Making a Parol post
Christmas Spending
You will start seeing bazaar after bazzar spring up in village club houses and church halls starting in October and these bazaars will showcase any kind of gift under the sun from the native item to food to clothes, etc.  All at slashed prices making it impossible for anyone to stick to a reasonable budget.  No where else will you see a financally struggling populace spend with abandon as some Filipinos do during Christmas.
There is a reason for this spending though.  In the Philippines we also have the adopted Santa Claus. So parents save months in advance to be both Santa and mom and dad. Frenzied shopping with a purpose is perhaps an apt way to describe the buying of the season.  There really is nothing like seeing the joy on your child's face upon waking up to find Santa visited and was generous. I know this for a fact.
Eating and Making Merry for the Season
Christmas in the Philippines will showcase some of the country's best native food.  There is the roast pig (lechon),  sweet meat loaf (embotido), smoked ham, fruit salad, quezo de bola (a round, aged cheese) and delicacies like puto bumbong. This purple colored dessert is made of sweet rice cooked in a hollow bamboo tube.  Once cooked they are removed from the bamboo tube and served with spread butter, sugar, and coconut.  This dessert, and most of the dishes I mentioned, are only served during Christmas making them eagerly anticipated and all the more special.
Of course, food always goes with song in the Philippines and starting the end of November calendars are filled with party after party, all of which have some form of singing to live bands, sing alongs, and Christmas caroling.
The Religion of Christmas
And again there is the religious aspect.  Starting December 16 there is a 9 day novena which most people attend. A novena is a Roman Catholic period of prayer lasting 9 days.  So a person attends 9 consecutive masses, praying for a special intention at the same time.  The novelty of this novena is that the masses are said in the wee hours of the morning, from 4 am to 6 am.  You will see flocks of people, young adults, working folks, etc all attending mass in the early morning.  This mass is capped off by an early morning breakfast of hot chocolate, coffee, and Philippine native delicacies.  A main mass is celebrated on Christmas day to mark the birth of Jesus Christ. Have I mentioned how Christianity is firmly rooted in the Philippines?
Family is Everything
All the decoration, masses, gift buying, eating, drinking, and signing are geared towards one thing- being with the family at this special time of the year.  Yes, the birth of Jesus is the reason for the season but it is also the one and only time that family is expected to set aside all things, all worries, all animosity just to be together.  No other occasion or holiday matches Christmas in that objective.  So if you are visiting the Philippines during the season, you will not miss a celebration that has some relation to family.
Perhaps Christmas in the Philippines is no different from Christmas anywhere else.  I guess you have to be here from the beginning to the end of the season to understand and feel the full flavor of what I've tried to do justice to with words and pictures.  Come and visit next year and really see what it's like.  I assure you, you will have a great time!
In the meantime, Merry Christmas or Happy Holidays to you all from Manila!
What are the Christmas traditions for your country?