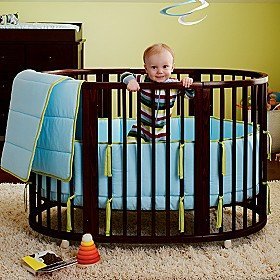 A child's room needs to feel like it's theirs.  When you bring home the baby, you never quite know what their personality will be.  You probably make the room either pink or blue, depending on the sex of the baby, and you also probably put your own spin on the décor.  However, as they grow up, their tastes will change, and you will need to keep up.
The Baby
The baby and young child is the easiest, because what you say goes.  You just need to keep it basic with a child's bed, a dresser, a nightstand, and a place to store their clothes.  You may even want to store their toys in their room as well (less mess in the rest of the house).  Depending on the size, you could even have a place for them to do homework, unless you want them to do it out in the kitchen or other central place in the house.
The Tween
As your child grows into a tween, you will really start to see their taste in things shine through.  Now is a great time to give them a little freedom to start decorating their own room.  You probably should keep a little say, but there is nothing wrong with a little paint and some new wall decorations.
In fact, they're probably growing out of their baby bed and will need something a little bigger and they could choose from the number of childrens beds that are available.  If you get new furniture now, make sure that it is designed to grow with them into adulthood.
The Teen
Finally, you're eventually going to have a teenager, and they will probably not want you going into their room very often.  They will also want the leeway to do whatever they want to their room.  If you trust them, let them do it.  Just make sure that they're not going to cause permanent damage to the house.  Also, for your teen, consider investing in furniture that they can take with them when the leave the house.  It can be a good investment for both you and them.
How have you handled your children's changing needs and desires for their room?