Black Friday is closer than you think, so make sure you're prepared. The worst thing a Black Friday attendee can do is to show up without a game plan.
Everyone knows shopping centers and malls are pandemonium on Black Friday, so don't get caught up in the commotion. Make the most out of your Black Friday experience. Find the right coupon shopping apps.
We came up with the list of the best Black Friday shopping sites and apps available. Find toys, clothes, kitchenware, electronics and so much more. The countdown to the big day has begun!
Black Friday Mobile (BF!)
There's probably no app more devoted to black friday than simply BlackFriday.com. Available on the app store or Google Play, you can find Black Friday deals before heading to the store. Be the first to get coupon ad alerts and find the best black friday deals before retailers run out.
They make it all easy with their Wishlist. This is a section of the app where you can save your favorite deals all in one place. That's not all. You can organize your deals by which store they come from or by certain category.
BF has over a million followers on Facebook, so make sure you're included in getting first wind of great deals!
BFAds
BFAds has one mission and one mission only: to keep you updated on the hottest Black Friday deals.
The website updates regularly and features articles about big name stores and what they're offering this year. BFAds also flaunts their "leaked" deals to try and keep users in the know of secretly planned Black Friday deals.
Unique to shopping sites that only let you know what deals are around, BFAds offers their own giveaways. They recently gave readers a chance to enter into a contest in which a winner could receive the much anticipated Nintendo SNES Classic.
Black Friday Ads
Find rare Black Friday and Cyber Monday deals with Black Friday Ads.
Ads for BlackFriday.fm will start popping up in November, so you'll have to stay tuned. Shop the best Black Friday deals from Kohl's, Best Buy, Target, Walmart, The Home Depot, Macy's, Sears, Bed Bath & Beyond, and more.

You can search by brand or category. Categories include appliances, food & wine, sports & outdoors, cellphones, baby & kids, general electronics, among others.
Retail Me Not
Retail Me Not is great all year round, but Black Friday is their time to shine.
Retail Me Not is a popular discount shopping app dedicated to promotions and discounts. This app helps companies get the word out about their brand, and it help customers find what they're looking for.

This convenient shopper app is popular among clothing shoppers. They can find sweaters, boots, purses, and other Fall favorites.
TGI Black Friday
Another Black Friday shopping website is TGI Black Friday. Receive push notifications and frequent updates on Black Friday news to stay in the loop during the entrance into the holiday season.
According to their website, TGI Black Friday has been featured in The New York Times, CNN, and the Wall Street Journal.
From Black Friday to Cyber Monday, you don't have to worry about missing a thing. Sign up for the mailing list on their homepage to get notifications when they start emailing deals.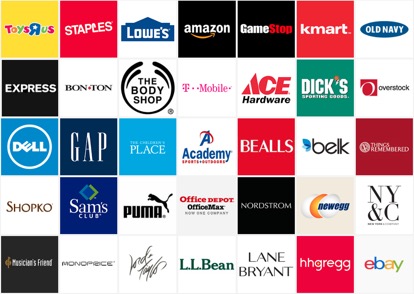 The Black Friday
Though Black Friday deals are not released yet, The Black Friday offers information on current sales. Check their shopper app or website and you'll find pre black friday deals from places like Best Buy, Target, Walmart, and more.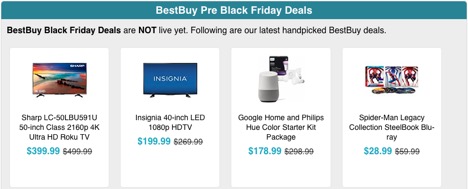 The Black Friday also gives insightful information like each store's top picks and recent news. For example, when clicking on Toys"R"Us, you'll find updated information about the bankruptcy the major retailer is going through and how it will influence their performance this season.
DealNews
Deal news is similar to the other trusty Black Friday shopping websites on this list, but what Deal News also offers is Black Friday predictions. For example, Deal News predicts that K-Cup machines will be selling for as little as $50 this year.
They also have a shopping blog on their site that is fun to read. In the blog, you'll find helpful shopping related articles. One of the blogs is titled "10 Ways to Save Up for a Black Friday Doorbuster. In this article, you find 10 interesting ways a shopper can save cash and prepare for the big spending day.
Find DealNews on an Android phone or iOS iPhone.
SlickDeals
SlickDeals is also another unique coupon shopping app. It's like Yelp for deals.
Users can rate and review coupons, so you'll know what you're getting into and if a coupon is legit. Users can also share coupons they've found with others.
There are forums where people can get together and talk about anything related to online deal hunting. In these forums, consumers work together to sniff out fake or sketchy deals.

This online community of bargain shoppers is changing the way people save money. It's a wonderful place for people to look out for each other and to avoid getting scammed.
Similar to other discount shopping websites, SlickDeals has a blog where you can find shopping advice and news. One of the most recent blogs features the best things to buy in the month of October.
Santa's Bag
This shopping app is a little different than the other ones on the list. Santa's Bag is a convenient way to help alleviate stress of Christmas. This Christmas shopping app is useful in that it helps you plan out Christmas gifts in a streamlined way.
Not only can you plan gifts for others through the app, you can send your preferences for the presents you want to receive this year.
You can also budget your gifts and keep track of how much you've spent on each person you're purchasing items for.
Download it on iTunes and save yourself some time!
Get Ready to Save!
Black Friday seems intimidating, but it doesn't have to be! With all the ways you can coupon search and gift plan, shopping this year should be a piece of cake. The key is preparation. Get ready and keep up with the latest doorbusters by downloading these helpful shopping apps. Good luck, bargain hunters!
Articles you may want to read:
Walmart Savings Catcher Phone Number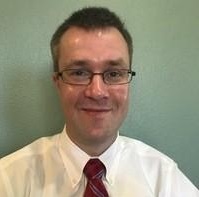 James Hendrickson is an internet entrepreneur, blogging junky, hunter and personal finance geek.  When he's not lurking in coffee shops in Portland, Oregon, you'll find him in the Pacific Northwest's great outdoors.   James has a masters degree in Sociology from the University of Maryland at College Park and a Bachelors degree on Sociology from Earlham College.  He loves individual stocks, bonds and precious metals.