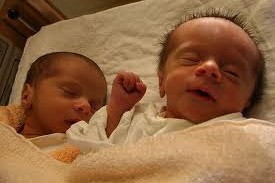 As I have mentioned before — I am the Mom of twin boys. Because of this, I get asked all kinds of questions. Here is one question that I get asked quite often by people who are either expecting twins or those who are just curious:
Does having twins mean you have to have two of everything?
Since money and space are a common concern for people expecting twins – thankfully – the answer is no. Certainly, there are things that you should have two of but there are many things where having just one, will suffice.
At the end of the article, check out our recommendations for some of the best online shops for baby furniture and supplies
Bringing Home Babies
It's always a great idea to be fully stocked on all supplies – and ready for action – as soon as the babies arrive home. Having all the essentials and first aid supplies is a must but you can hold off on some of the bigger items until later (swings, high chairs, exersaucers, etc.)
Parents of twins do need to keep plenty (and by plenty I mean, imagine what you think might need and triple that number) of the following items on hand; bottles, wipes, diapers, and formula. Other things that are really important to have a lot of are; onsies, sleepers, burp cloths,love and patience. Trust me when I tell you that running out of any of these items, with two unhappy babies yelling at you is not – I repeat – not a good thing!
Things you need to have two of:
Car Seats
These are an absolute must. They won't even let you leave the hospital, without seeing them properly installed in your car first.
Double Stroller
There are some great infant seat/double stroller systems out there. Do a lot of research and that will help you decide which one might work best for you. To get started you'll want to ask other parents of twins, read reviews, and take them for a test drive.
We had an in-line stroller and later bought a side by side light weight double stroller when the boys were about a year old. Both had their advantages – like keeping the kiddos contained; and their disadvantages – like not being able to squeeze through narrow spaces or the ablility to take out clothing racks in department stores.
Cribs
Most twinfants do enjoy sharing a crib (or at least they seem to) but opinions differ on whether that is actually safe or not. Once they start moving around and rolling over, parents are strongly advised to put them in their own crib because one could roll over on the other and cause them to stop breathing.
Our boys slept in a crib together for a very short time. They couldn't roll over but somehow N would scoot himself on his back (maybe kicking his feet or something) and end up using A's belly as his foot rest. Neither seemed bothered by this arrangement but we separated them soon after this started — they actually slept much better on their own.
Baby Carrier or Sling
I loved our baby carriers, though looking back I probably would have purchased a sling as well — for around the house. The carrier was just too bulky to use while trying to get things done.
The carriers were great when my husband and I would take the boys out and about. We could hold them close (so people didn't lean in and breathe all over them). Plus, we didn't get people constantly stopping us to ask if they were twins — not that I minded that so much, but when you are in a hurry it can be a little frustrating.
High Chairs
These of course aren't needed right away, but they are necessary. A friend of mine – who also has twins – advised me to get high chairs which would fit on our dining room chairs.
This was a fantastic idea for us because our kitchen isn't very big and having two high chairs would have taken up a lot of space. We found some nice ones and then my Mom bought some very simple, plastic ones that were great for travel. They were light weight and didn't take up too much space; which was nice.
Two Sets of Bottles
We started with glass bottles and that made for a lot of extra work. They were nice though, easy to warm up and store in the fridge but lots of washing, especially in the beginning.
I later moved to the Playtex bottles and liners (*money saver* Target makes liners that fit these bottles for much less than the Playtex ones) not very "green" of me I know — but it sure was simple and saved me a lot of time.
Potty Seats
Potty training twins isn't easy but having two potty chairs in the house will make it a tiny bit easier.
Things you may need two of:
Diaper Genie or Diaper Pail
You really only need one of these but if you have a split level house it might be more convenient to have one on each level.
Baby Swing
You might be fine with only one of these but if both babies really love them — you'll probably want two.
Bouncy Seat
Our boys loved these. I would put the babies in them and it made it easy for me to transport them to any room in the house. Some babies don't like them though, so if you get one and they both like it, you can get another one later.
Exersaucer
These were fantastic and the boys loved playing in them. They would also interact and play with each other when I would put them in them side-by-side.
Bumbos
My boys didn't use these for very long before they figured out how to escape — but they were fun to have.
One will be just fine:
Changing Table
Wipe Warmer
Vaporizer (unless they are in two separate rooms)
Nursing Pillow
Activity Mat
Bathtub
Night Light
Recommended Baby Stores that Help Support this Site:
If you have any questions about twins, or would like to see a post on a specific topic relating to twin parenting let me know!
Do you have twins? What items to you get two of and what did you only need one of?