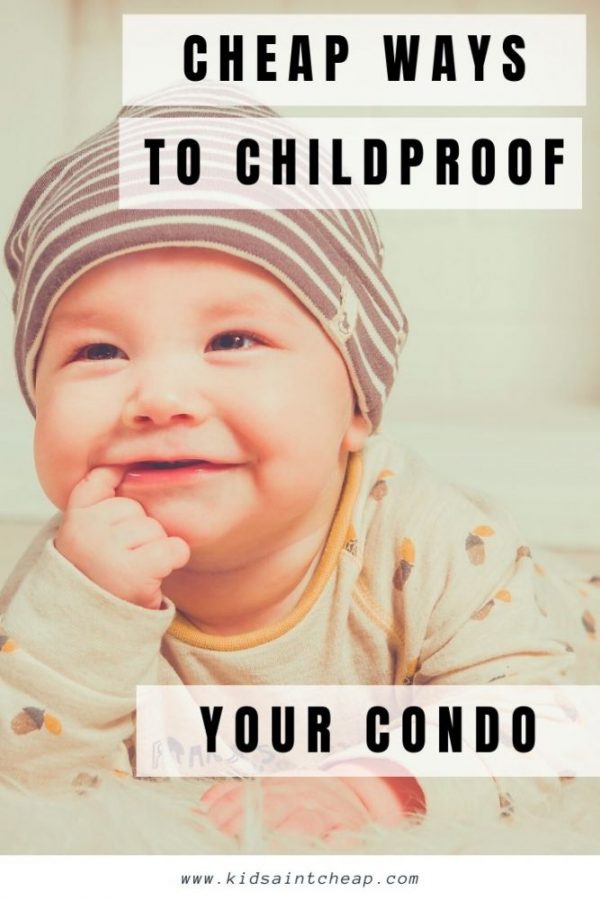 When baby starts crawling and walking, you may feel like you don't have enough eyes to keep track of him. Babies this age love getting into cabinets and putting things into their mouths. They love to explore. While these traits are good for babies' growing knowledge, it can also put them in danger, sometimes mortal danger. However, there are cheap ways to childproof a condominium that will help keep your baby safe and help you maintain some control over his environment.
Cheap Ways to Childproof a Condominium
If you're trying to save money or be frugal when childproofing, you'll be happy to know you can start with the free fixes first.
Free Ways to Childproof
Consider Baby Safety Before You Buy
If you even remotely are considering having a child when you are condo shopping, the best thing you can do is find a child-friendly condo layout. That means finding a condo that doesn't have a large balcony that over looks the living space. (Trying to childproof an upstairs railing can be a nightmare!) Likewise, open concept plans may be more difficult to childproof because you can use doorways to separate off areas.
Rearrange Your Cupboards
Once your child starts becoming more mobile, it's time to rearrange your cupboards. In the lower cabinets, put things like pots and pans. If baby gets into these items, no harm done. You'll want to move any glass containers or lids to higher shelves.
Put Up Dangerous Items
Many people keep cleaning chemicals under their kitchen sink. A better place for these might be in a higher cupboard so you don't risk your child getting into them and accidentally getting poisoned. Automatic lighters and other potentially dangerous items should all be put up. Out of sight, out of mind.
Keep Furniture Away from Windows
The next free thing you can do is keep furniture away from high windows. If your child's bedroom is on the second floor or higher, be sure to keep the bed and dresser away from the window. This step makes it harder for your child to inadvertently fall from the window since she has nothing to climb.
Tie Up Window Blind Cords
Window blind cords create a real danger for young children. In a study by The Center for Injury Research and Policy at Nationwide Children's Hospital, researchers "found that over 26 years emergency departments treated almost 17,000 children for strangulation from window covering cords.  Of those cases, 271 children died" (Today.com).
Sure, you can buy expensive cord binders, but check out Pinterest for a way to make a free cord binder. All you need is a light piece of plastic that you probably were going to throw in recycling anyway and a pair of scissors. This idea is ingenious!
Bath Seat
Don't feel the need to buy a special bath seat for when your little one takes a bath. Instead, place your child in a laundry basket in the tub when giving her a bath. She can stay seated in a smaller area, so there is less chance of slipping or falling.
Low-Cost Options
After you exhaust the free options, there are several low-cost ways to childproof your condo.
Tennis Balls on Sharp Corners
Little ones can often lose their balance when just learning to walk, so cut the side of a tennis ball and stick it on the sharp corners of tables and other items like the hearth of the fireplace.
Elastic on Handles
To keep cabinets with handles closed, put rubber bands around the handles. Double twist to make sure the doors stay securely closed.
If you have cabinets without handles, either install handles or you can buy inner door latches. These run about $1 a piece.
Plastic Container Around Power Cords
If you have a power strip you want to babyproof, you can take a cheap plastic tub, put the power strip inside, and cut a hole on the side for the cords. See full instructions and image on Pinterest.
Hairband Around the Toilet Paper Roll
Remember the fun age when toddlers delight in unrolling ALL the toilet paper on the roll? End that habit with a rubber band around the toilet paper roll.
Band-aids over Electrical Outlets
If it will be a few days before you can get to the store, you can cover electrical outlets with band-aids. However, your baby will likely figure this one out quickly, so eventually you'll want to buy electrical outlet plug covers. These are very affordable at only $6 per 24 pack.
Door Knob Covers
There may be some rooms and closets that you just don't want your child to get into unattended. For those rooms, consider door knob covers. These are easy for parents to use, but little ones usually can't figure them out until at least the preschool years.
DIY Baby Gate
If there is a doorway you want to keep baby from going through, you can create a DIY baby gate. You'll need two tension rods and fabric. True, you'll have to invest some money into this project, but the overall cost is much cheaper than metal, store-bought baby gates. Plus, these are softer.
Air Vent Protection
If you have air vents on the floor, your child may be unable to resist dropping items down the slats. Prevent this by putting fabric tulle under or over the air vent. Air can still flow through unobstructed, but your child will no longer be able to put things through the cracks.
Final Thoughts
These are just a few of the cheap ways to childproof a condominium. While you won't have to spend a fortune childproofing, you will likely need to buy some supplies. There are free childproofing fixes, but you'll also probably have to buy some of the low-cost supplies to truly keep your child safe. But don't worry, in a few years, childproofing will be a distant memory as your child gains more independence and learns what's safe and what isn't.
Read More
Childproofing Your Home Reduces Risk by 70%
Is It Worth Buying Expensive Car Seats
Did You Know Your Preschooler's Apps Are Full of Ads?
Melissa is a writer and virtual assistant. She earned her Master's from Southern Illinois University, and her Bachelor's in English from the University of Michigan. When she's not working, you can find her homeschooling her kids, reading a good book, or cooking. She resides in Arizona where she dislikes the summer heat but loves the natural beauty of the area.